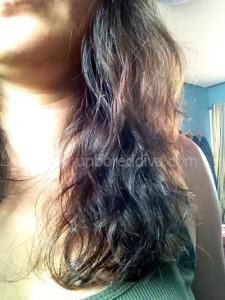 8th month digi perm
It's been 8 months since I got my digi perm. My curls have definitely become looser, but I actually prefer it this way now. The waves look more natural. I've had two colors done on my tresses in the past 8 months, and a trim on my layers just last week. Interestingly, the salon kept asking me where I had my highlights done and when because they still showed through even with the subsequent coloring. Hats off to Alex Carbonell!
I can safely say that whenever you feel like the curls are gone, washing your hair will bring them back. I still haven't been tempted to brush my locks although I sort of do a lot of detangling in the shower using my fingers. 
The Macadamia Natural Oil that I mentioned in my previous post has been great at locking in my curls but they do get crunchy, although I've never had any itching and scratching, even flaking, since I started using it. There's still lots inside the 250ml bottle so it's really economical. Even my macamadia oil that I mix with it is still almost full and it's been 2 months since I posted them! So there's definitely a significant savings compared to using the Kerastase, and the ingredients are more natural.
I am still using my Human Nature shampoo and conditioner – I just love the mandarin citrus scent. I think this and the macadamia oil is keeping my hair very healthy. Even the husband has started using it!
How's your hair going?