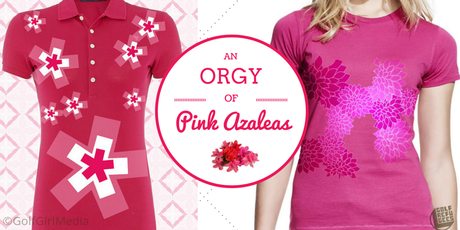 Written by Patricia Hannigan - Golf Girl's Dairy

A couple of weeks ago I happily accepted a challenge from my long-time friends at Golf Refugees to design a limited edition women's golf shirt for the 2015 Masters.  To provide some added inspiration and drive the design process I came up with a slightly salacious... but rather fitting... name: An Orgy of Pink Azaleas.
Though I'd never before tried my hand at apparel design, I assumed my fondness for fashion and the numerous years I'd spent immersed in the golf lifestyle would enable me to come up with something pretty wonderful.
That, however, did not turn out to be the case. You see, I was able to visualize my azalea orgy... I knew I wanted it simple and whimsical, slightly 60's-geometric... but I found myself totally unable to render it onto a wearable garment.  I did the best I could, but was less than satisfied with the end result. It was altogether too cartoonish; like something Dora the Explorer might wear... were she lucky enough to procure tickets to the Masters.
Meanwhile my challengers presented their design: a sublime creation, featuring a cascade of artfully variegated fuchsia blossoms, on an organic pink, collarless top. It's based on a vintage wallpaper design. I fell in love with it, and it's exactly what I will wear to Augusta, should I somehow manage to wrangle the elusive badge.
In the meantime, though I enjoyed the challenge, I think I've got to concede to Golf Refugees, as theirs is clearly the better design.  I'm happy to take credit for the name though.


ooooooooooooooooooooooooooooooooooooooooooooooooooo