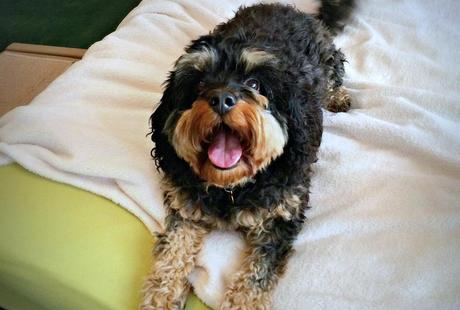 Hey You Guys,
Last Friday was Valentine's Day and this year I had the best Valentine's Day ever! My BFF Darius came to stay for the whole day. How cool is that! The day began slowly and then suddenly my mommy told me that we had to collect all my small tennis balls and put them away (they are too small for Darius to play with and he might choke on them), because Darius was on his way to see me. I got so excited that I cried a little!
I have known Darius all my life. He is a Cavapoo which sounds much fancier than a Chihuahua. It sounds like he should be eating foie gras from a gold plate in a French chateau. And me being a Chihuahua sounds like I should be eating a chicken taco in a barrio. But then again I looove chicken and cheese and my mommy loooves margaritas, so we are happy just the way we are. And I love Darius! He is my brother-from-another-mother!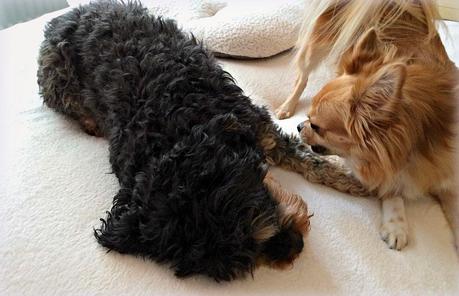 When Darius got here last Friday we ran for a whole hour. Yes, we were so happy to see each other. It had been at least a month since we saw each other the last time. Darius cried and cried when he saw me! I told him that I had missed him as well. He was jumping against my mommy and my mommy lifted him up. Darius was so happy to see her as well. We wrestled, played tag, jumped on my mummy's bed and just ran in circles.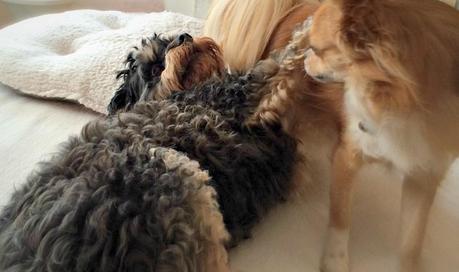 Darius has so much energy. It's play, play, play all the time! If I want to take a breather, Darius gets sneaky and softly slaps my ears or face. And then it's go, go, go again… Darius is so funny!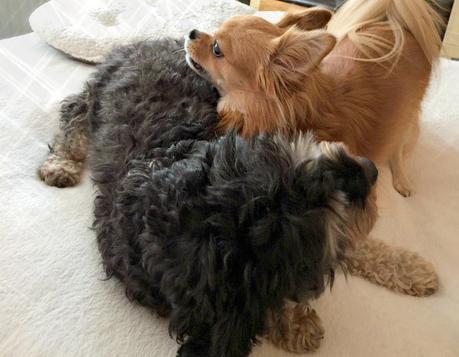 Darius says that he loves to come visit me. I let him play with all my toys and I also share all my chewies with him. On this Valentine's Day we went for a walk in the park before my mommy prepared lunch for both of us. Darius was not expecting that! After the lunch we even took a nap on my mummy's bed together. I just had to rest for a while. I don't have as much energy as Darius. I sometimes look at him in wonder when he keeps on running and playing for hours and hours. How does he do that??!!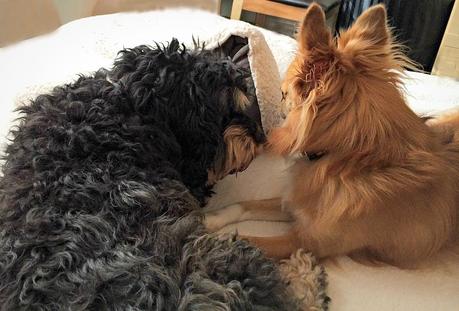 The saddest moment is always when Darius' own mommy comes to pick him up and I have to say Good Bye to my 'brother'. I wish he would come visit all the time. He is so much fun!! Darius says that he always has such a good time and he would like to stay longer, but he cannot leave his mommy alone all the time. Both of us always get a bit sad when we have to go our separate ways, but then we remember how much fun we had and just cannot wait for the next time.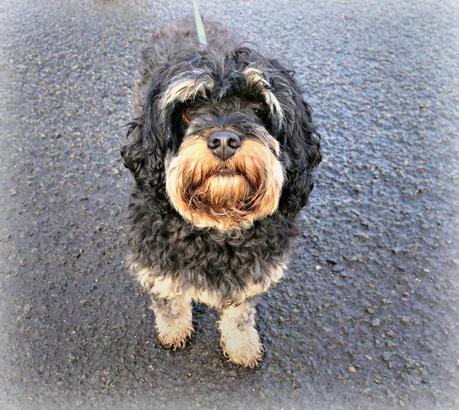 After Darius' visit I go to bed immediately. I love him so much, but he wears me out every time. My mommy says that I can sleep the whole next day because exhausted sleep after exercise is good sleep. And sleep I do!!
Hope you guy had a great Valentine's Day as well and remember to keep in touch with all your friends. It's so much fun to spend time with your BFFs – especially if you are not able to see them all the time!
XOXO,
Diego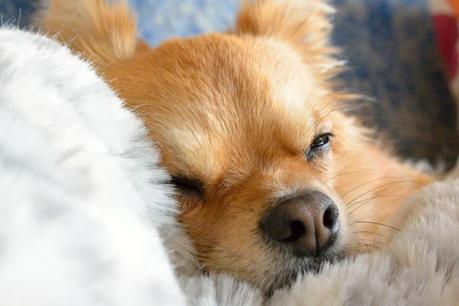 Photos: Marthafied