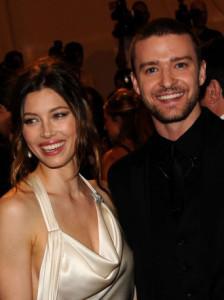 Heartthrob pop singer, Justin Timberlake and actress Jessica Biel have reportedly tied knots in a secret ceremony on a private estate on Saturday (August 18), in Jackson Hole, Wyoming – where they got engaged last year in December.
Hollywood gossip columnist Janet Charlton wrote on her blog on Friday: 'A source just told us that Justin Timberlake and Jessica Biel are getting married in Jackson Hole, Wyoming as we write this! They pulled a fast one on everybody! They are in the middle of their ceremony at a very fancy private estate and members of the wedding party are staying at the Four Seasons Hotel there.'
Conversely, she added on Saturday: 'Last night turned out to be the rehearsal dinner and the wedding is actually today.'
However the fictional story of Justin Timberlake and Jessica Biel saying "I do" over the weekend, turned out to be mere rumours.
A source close to the couple claimed they are still happily engaged, and did not tie the knot in Jackson Hole, Wyoming, on the weekend.
"Justin and Jessica are seriously still in the early planning stages of the wedding and don't have it all figured out yet, as Jessica keeps saying," the source explains.
Supporting the fact, even a Timberlake family member denied the news that the nuptials had taken place.
Dispelling rumours was the news that the 'Friends with Benefits' actor was spotted in Puerto Rico on the weekend where he's currently filming 'Runner, Runner'. Also Biel is currently busy with work, doing a rapid global tour promoting her upcoming movie 'Total Recall'.
Timberlake and Biel have been dating since 2007, though they separated for several months last year. After the couple reunited, Timberlake proposed to Biel in the mountains of Jackson, Wyoming with an impressive diamond engagement rings in December 2011.
Let's wait and watch whether the news of Justin and Jessica exchanging wedding bands are mere rumours or a revealing reality…
Also Read : Jennifer Aniston & Justin Theroux are ENGAGED!!!