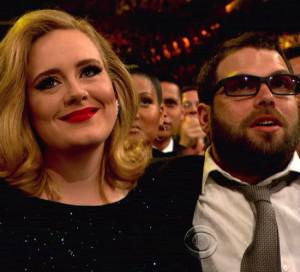 A month away from welcoming her first baby, it is reported Adele is engaged or even married to fiance Simon Konecki.
The 'Rolling in the Deep' singer was glowing as she revealed her baby bump wearing a black maxi dress in London last month with daddy-to-be Simon. The expected baby is not the only reason for that glow. The mother-to-be unmistakably sported a gold wedding bands on her ring finger, report claimed by Life & Style magazine.
"Adele and Simon managed to keep the baby news a secret for so long that there are rumours they've already gotten married, too," a source told Life & Style magazine.
"She's an old-fashioned girl and can't wait to be part of a family unit. She just wants to focus on the baby and the man she loves," the source added.
Adele had announced her pregnancy in June via her website. There have been no updates to the site since then. Though everyone is sceptical about Adele's secret engagement or wedding, but that is just what exactly L&S magazine says.
Adele is an English singer-songwriter and musician who grew to popularity since 2008 with her music album '19'. In 2010, her second album '21' was released which bagged six Grammy awards this year, becoming the fifth biggest-selling album of all time in the UK by outselling even Michael Jackson's Thriller.