When we checked on the progress of Chuck Larson's latest rehab last week we were welcomed with dramatic changes... it is almost ready for some lucky buyer! Here are some before and after pictures to give a better understanding of just how much work has been going into the transformation of this basic 1950's rambler... solid structure, but ready for updating throughout.
Let's start in the kitchen, which is on the top of many buyer priority lists. I don't think there is an inch of this room that wasn't renewed... from stripping the wallpaper and installing new lighting and flooring...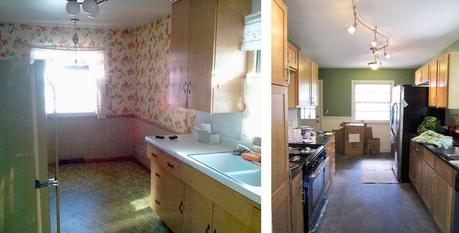 ....to new solid wood cabinets (no laminated particle board here!), stainless steel appliances and granite countertops. Chuck even enlarged the doorway to the living room to give it a more open, spacious feel.

The hardwood floor in the living room again shows its natural beauty...

...and they even added a classy wood ceiling to the big screen porch perfect for summer entertaining.

I talked before about how Chuck's attention to detail even went to the basement stairway. In a typical 'flip' they would have just painted the existing stairway walls and covered the steps with cheap carpet... not what happened here! The flimsy particle board was replaced with sheet rock and the stairway was made safer with newly anchored treads. He even went so far as to add trim detail to the stairway for a more refined finish.

It's this attention to detail that define Chuck's work not as 'flips' but as 'thoughtful rehabs'. He feels an obligation to thoughtfully finish the home as if he were going to live there himself and takes great pride in quality workmanship. This isn't a high end remodel but rather a thoughtfully updated home for some lucky new buyer to enjoy as much as the last owner who lived there for over 50 years.

Do you notice changes to the exterior? Not only fresh paint and a new door... do you see what is missing? They took out two dying trees in addition to some shrubs!
This thoughtful rehab will be on the market for a new owner within the next couple weeks... let me know if you would like to be among the first to see it!
Sharlene Hensrud, RE/MAX Results - Email - St. Louis Park Realtor