Naomi Watts had landed to coveted role to play Princess Diana in the upcoming biopic of The Princess of Wales. Now, famed Swiss jeweler Chopard has been named official jewelry and watch provider for the movie simply entitled "Diana".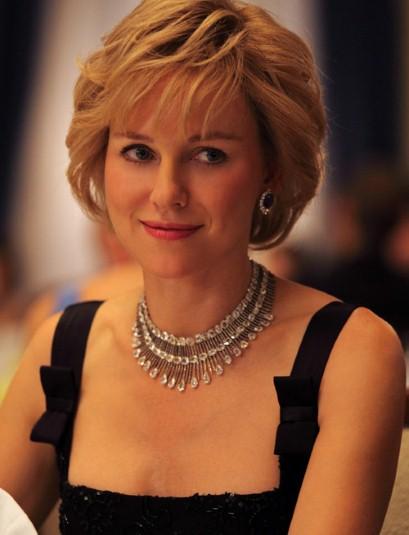 Naomi Watts as Diana in Chopard
Chopard will be charged with recreating many of the late princess' famous and familiar jewelry; it also be able to reap some of the benefits of not only being associated with the project, but of being able to offer the reproductions for public sale. But it is not just reproductions of actual pieces that Diana wore that Chopard will be limited to. There are reports that the film's costume designer and Chopard are creating original pieces for the film. Chopard also benefits from a public perception that Diana wore many of the brand's jewelry, which is not necessarily true.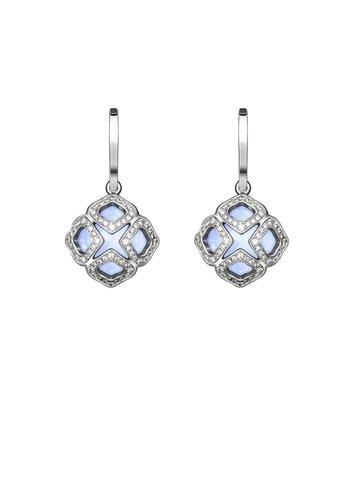 Earrings in white gold set with diamonds and chalcedony via NYT
The movie is currently being filmed and there are reports that the 33 year old Australian actress looks stunning in the Chopard Jewels.
Replicas of Diana's jewelry has already been established as a big business, and with her engagement ring now being worn by the Duchess of Cambridge, interest has once again been renewed. The diamond and blue sapphire engagement ring is certain to play a role in the film along with matching earrings.
The timing of the biopic along with the pregnancy of the Duchess of Cambridge is sure to pay handsome dividends for Chopard. As of yet, there has been no release date announced for the film.
Whether it has been the necklace featured in the Titanic, or the Princess of Wales blue sapphire engagement ring, has a movie or jewelry worn by a celebrity ever influenced you choice in jewelry shopping? Chopard is betting it will.
Raymond Z for Raymond Lee Jewelers, South Florida's premiere source for buying and selling luxury watches and designer jewelry.