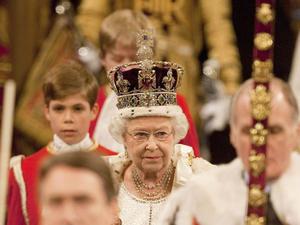 From June 2 through June 5, 2012, one of the most celebrated events of the year will take place in England at various locations. What promises to be an amazing display of royalty, the single most impressive display will be that of the diamond collection. This is no ordinary collection of the largest and most prized diamonds in the world, bar none!
There is a diamond discovered in the early 1900′s that was originally thought to be a worthless crystal by its founders. So convinced that the huge 3,000 carat Cullinan Diamond was a pure waste, the manager of the mine tossed it out of his office window. Fortunately, it was collected and determined to be quite valuable, actually, it is essentially priceless. This gem is known to be the largest colorless diamond ever found.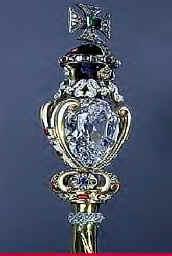 Sovereign's Scetpre with Cross
After creating 96 diamonds from this one stone, the value of each and popularity both gained huge notoriety. Beginning with the largest cut, the Cullinan I – The Star of Africa, it weighs 530 carats and is easily the largest colorless cut diamond known to man. This magnificent precious gem is placed in the Sovereign's Sceptre with Cross which is on display in the Tower of London.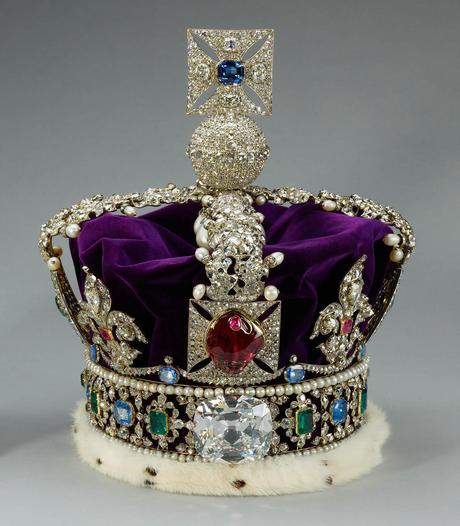 Cullinan I - The largest cut diamond from the Cullinan collection at 530 carats is located just above the rim of the crown.
Another fantastic diamond from this cut stone is the Cullinan II that found its home to be in the Imperial Crown. Most recently it was worn by Queen Elizabeth II in early May, 2012. This huge diamond can be seen in the front of the crown just above the rim, it is impressively massive when compared to what most are used to seeing in a diamond cut.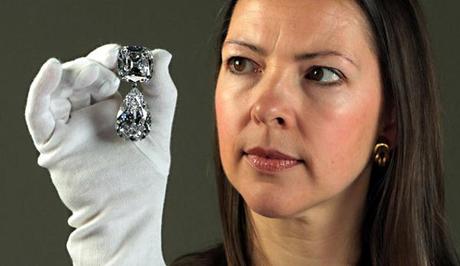 The broach with the Cullinan III and Cullinan IV diamonds shown one above the other.
The third and fourth largest of the Cullinan Diamonds are found in a Broach given to King Edward VII for his 66th birthday. Pictured here, you can see the incredible size of each of the diamonds, one being a square cut and the other a pear shaped cut. For those who are true enthusiasts of diamonds, this is eye-candy at its best.
Learning more about the Diamond Jubilee is a real history lesson on Britain's royalty and the impressive diamond collection of the royal family. With events scheduled for the four days of the jubilee and its amazing displays of priceless gems, the entire celebration will be one not soon forgotten.
At Raymond Lee Jewelers, we have an impressive collection of diamond jewelry, diamond watches, and diamond rings. Whether you come by our beautiful 3,200 square foot showroom or shop online, you will find the same fantastic discounts on our finest jewelry. Don't forget to look at our pre-owned watches with names like Rolex, Cartier, Tag Heuer, Breitling, and so much more!