Diamond Dog Collars? That's right, there is a viable market that knows for some owners, K9 opulence is definitely in style. This is serious business and right now there is a buzz about Diamond Dog Collars across the blog-o-sphere.  While this is an exclusive market to some extent, just witnessing the different styles and fine diamond pieces can be enough to make any diamond enthusiast say, "Wow!"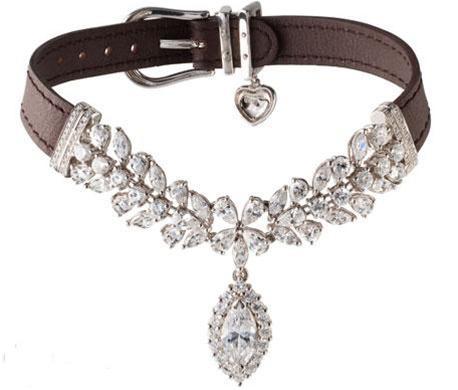 poshpuppyboutique.com features this collar brandishing a 150k price tag
Spare No Expense…
In an article by Daily Mail Reporter, dog collars were the spotlight, illustrating some incredible collars. In fact, one shown below is worth as much as 3.2 million dollars at present time; that's serious money… and to think I actually look at the price of dog food when I'm shopping for my pets. For some, jewelry for a pet is a bit much, but for others it's just another way of beautifying their pet! With purchases of diamond necklaces adorning their favorite canine, jewelry designers and retailers have found yet another hungry audience for their wares.
This $3.2 million dollar collar sets this dog apart from the crowd.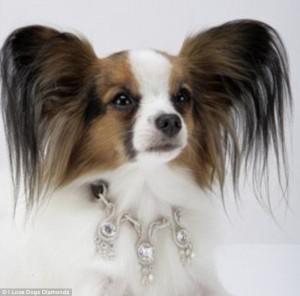 Canine jewelry comes in with diamonds and sapphires as the choice of owners, however, any kind of precious metal or gem stones are used. The most elaborate designs usually dote a diamond encrusted necklace that looks of lavishness and decadence; some may even consider the appearance elegant. Either way, it is quite clear some dogs are living the high life.
What Can Best Friend Bling Cost?
While some of the more modest diamond doggy collars can run in the neighborhood of $3,000, there is a higher echelon of puppy clients who demand something more.   In fact, their "Amour, Amour" collar (featured right) is currently the world's most pricey dog collar.  Marked at $3,200,000, this dazzling diamond dog collar features 52 carats of diamonds. A grand total of 1,600 hand set diamonds decorate this collar. The eye catching focus point is a 7-carat D-IF brilliant-shaped diamond. And to put this gorgeous piece of work over the top… the chandelier-style base is made from none other than crocodile leather and 18kt white gold.
It's just impossible not to appreciate the craft of diamond jewelry designing and making as a real art form. Displaying their outstanding work on pets is a stroke of genius for advertising; most everyone loves animals, especially if they carry a few million dollars around with them.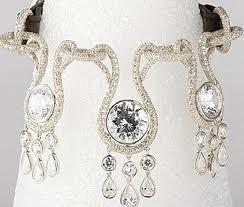 The "Amour, Amour" Diamond Dog Collar
By James for Raymond Lee Jewelers, South Florida's most trusted resource for new or pre-owned jewelry. To Learn more about jewelry trends and industry news in general, subscribe to this blog.