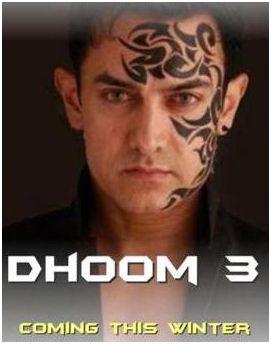 Dhoom:3, an upcoming action thriller film under Yash Raj banner will be the first Bollywood film to be released in IMAX theatres across India and select global locations after being digitally remastered in the Imax format.
IMAX Corporation and Bollywood banner Yash Raj Films announced today (September 21st) that Dhoom:3 will be the first Bollywood film to be released in Imax format.
The project is written and directed by Vijay Krishna Acharya and is produced by Aditya Chopra. The music for the movie is given by Pritam.
Dhoom:3, the third installment in the popular Dhoom series stars Aamir Khan, Abhishek Bachchan, Uday Chopra, Jackie Shroff and Katrina Kaif. Aamir will be playing a negative role while Abhishek and Uday will be playing their original roles as police officer. Katrina will play the lead actress.
The chairman of Yash Raj Films (YRF) Yash Chopra said: "Imax has always symbolized high quality film entertainment and this vision of the company works very well with the ethos of YRF which has been synonymous with Indian film entertainment over the last four decades. We are extremely happy to announce our association with Imax for the additional release of Dhoom:3 in this exciting format next year."
Greg Foster, the President and Chairman of Imax Filmed Entertainment said: "Our network growth in India has reached a point where we are now able to present local – language films in Imax, which is paramount to our success in the region. We're excited to begin this partnership with Yash Raj Films and look forward to working with director Vijay Krishna Acharya and Yash and Aditya Chopra on this highly anticipated Bollywood blockbuster."
The movie is set for a 2013 release.