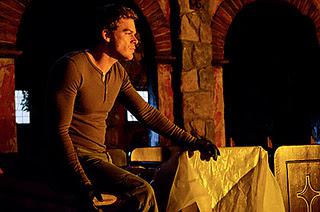 Original Air Date: 20 November 2011
Storyline: Dexter gets a frosty reception from Debra on his return from Nebraska. He does his best to make amends, but doesn't share what he knows about Travis and Professor Gellar. Thanks to Masuka's intern Louis, the police now have a list of 200 of Gellar's former students living in the Miami area and the team fans out to interview them all. It doesn't stop the Doomsday Killer from striking again with a new tableau: the Whore of Babylon. Meanwhile, LaGuerta takes a particular interest in the death of a high class prostitute and seems desperate to have the case ruled an accidental death.
Trivia: Eliotsearchengine.com, the web page that Louis Greene recommends for Dexter, redirects to "Masuka's Intern Program" page on Facebook.
Best Quote:

Dexter

: Kids trust everybody. [...] They trust the food you're giving them is safe to eat. [...] Children trust that when we put them to bed at night, they'll live to see another day. Adults are not always so fortunate.


Review: I can't understand why we had to wait for this show to get way past the middle of the season in order for me to enjoy it to its full extent. It got so caught up in this religion bullshit that I almost forgot I was supposed to enjoy it. But with "Sin of Omission", it was like watching the good old Dexter again: fast paced, intriguing and thrilling. Because, guess what? Dex finally got involved in the Doomsday Killer case like he was supposed to all along, before he got sucked into the whole fiasco with Brother Sam.

There was no talk of redemption or reevaluating his life, in fact, it seems like all that got washed away by the ocean, much Brother Sam's ashes. A little poetry for you guys. 

We got used to Dexter competing with the police in order to catch the killer of the day. He hasn't done much competing this season, in fact, other than letting Travis go, he didn't get involved at all. But as Miami Metro zeroed in on Gellar's accomplice, he got the wake-up call and started to look into things more closely, discovering - by ways of an old priest who, in his dementia, forgave Dexter's sins - the location of the church Gellar uses as a hideout. Of course, it was Gellar's fault that he got discovered: leaving such a valuable clue like the identity of the former owner of the clothes he used for the whore of Babylon tableau was an unforgivable mistake. But Dexter got skilled at finding out such clues even with his colleagues around, so that was bound to happen sooner or later.

I was actually thinking, towards the end, that Gellar would catch Dexter and use him in one of his tableaux, much like he did with Travis' sister and he was planning to do with Travis himself. That would have been really interesting. But now, thanks to Lisa's murder, Dex might finally get Marshall on his side, just like he wanted ever since he let him go.

To add to the good things that happened this week, the relationship between the Morgan siblings took a turn I've been expected to see for a very long time. It took Debra long enough to figure that her brother was keeping secrets from her; being the detective she is, she should have seen this a lot sooner. Discovering that Dexter took the trip to Nebraska and seeing him avoid any kind of conversation with her might have been just the game changer I've hoped for. I would have speculated that Debra might start uncovering her brother's life and find out about his extra-curricular activities soon, but seeing how the show just got renewed for two more seasons, this is unlikely, unless the producers get rid of her somehow.

The episode featured two secondary plots about which I don't care at all, but will mention here just for the sake of covering everything: Batista breaking Jamie and Louis up (for reasons that go beyond my understanding) and LaGuerta taking an interest in the death of a high-end prostitute after an overdose, trying to cover up the presence of a man in the hotel room where she'd been found (any bets on that man being her boss? It wouldn't be the first time she covered things for him).

There are four episodes left and now I'm excited to see how Dexter and his new ally, Travis, go about catching professor Gellar. And because I need to comment on this, I have mixed feelings about the show being renewed for two more seasons: on one hand, I'm glad I'll have Dexter on my TV longer, on the other, I can't imagine what they'll invent next in order to keep things fresh, since this season is already such a disappointment.

Dexter 6x07: Nebraska Back to Season 6