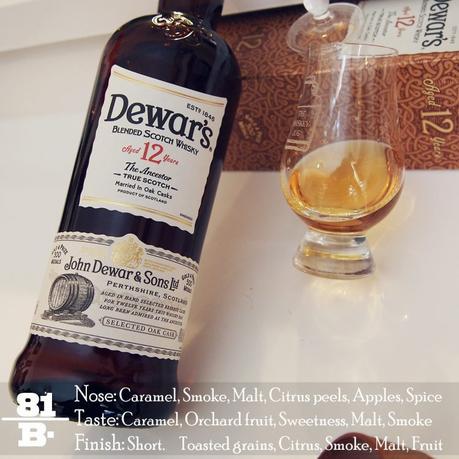 Dewar's 12 Years is a whisky I've been wanting to try for a while. It's no secret that I'm not a huge fan of the regular Dewar's White, I've expressed that on more than one occasion, but something like this hopefully showed some promise. Since it carries a 12 year age statement that means every component, both grain and single malts, need to be aged at least 12 years and as we've discovered over the years, aged grain whisky can be quite nice.
True 12 years is some distance from the 25+ where grain really starts to get good, but it's a large leap up from the minimum 3 years that's needed to allow it into NAS blends. The single malts follow the same route and every drop of Aberfeldy, Craigellachie, Royal Brackla, The Deveron, Aultmore, and all the rest are at least 12 years old. Which is great, but then they go and neuter it by dropping the ABV down to 40%. So is life.
Dewar's 12 Years Info
Region: Scotland
Blender: Dewar's
Cask: Various
Age: 12 years
ABV: 40%
Price: $25
Dewar's 12 Years Review
EYE
Caramel – me thinks thar's some e150 in 'ere.
NOSE
Caramel, smoky malt, citrus peels apple, spice, strawberry frosting and a touch of iodine, graham and fresh pastries. It's not a dense aroma, rather light and etherial, but it's definitely a pleasant aroma. I have no qualms with what's going on, I just wish it were bolder.
PALATE
Caramel, orchard fruit, sweetness, malt, touch of smoke, strawberry frosting with a bit of spice, raisins and cocoa. Like the nose it's a great experience overall, it just happens to be so light that it leaves me wanting more.
FINISH
Short drop of toasted grains, citrus, smoke, malt and dried fruit.
BALANCE, BODY & FEEL
Good balance, thin body, soft nearly watery feel.
OVERALL
Dewar's 12 is a decent sipping whisky and something I'm very glad I tried, but it's also something I'm a bit disappointed in. When doing a blind Aberfeldy tasting at Malt Nuts we tasted one of the older 43% bottles of the Dewar's 12 and I enjoyed it quite a bit. I thought it had some real character to it, but it seems that small 3% drop in ABV has noticeably dulled it down.
It's still a decent dram and as a way to kick off an evening or sit and sip after a meal it works well, it also makes an acceptable Rob Roy, the only thing it's really missing is some richness. I would love to experience this whisky at 46%, non-chill filtered and with no e150. It has enough good things going on inside of it that with less water, and leaving it's natural oils intact, it could easily go from a decent blend to a great whisky.
SCORE: 81/100 (B-)
*Disclosure: This sample of Dewar's 12 Years was graciously sent to me by the company for the purposes of this review. The views, opinions, and tasting notes are 100% my own.