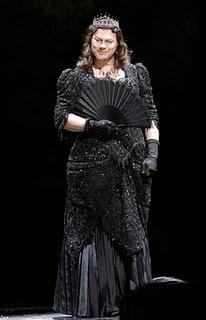 René Pape as Mephistopheles at Covent Garden.
Photo © 2011 Royal Opera at Covent Garden
Rene Pape breaks out the new Fall line for Faust.
The opera blogosphere is buzzing today over this photo from the revival of David McVicar's 2004 Covent Garden production of Gounod's Faust. The opera  had its season premiere on Sept. 18.
The German bass-baritone sings the role of Méphistophelès, the devil who spends five acts negotiates for possession of the title character's soul. The Prince of Darkness is less successful in his attempts to ensnare Marguerite (Faust's love interest.) But by the looks of things, he manages to acquire the soul of her couturier.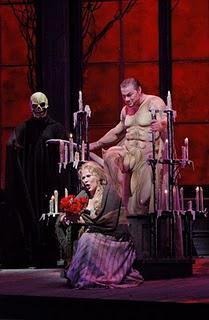 René Pape (seated) as Mephistopheles at the Met.
Photo by Marty Sohl © 2005 The Metropolitan Opera


The dress shows up in the Walpurgisnacht scene in Act IV, a huge ballet sequence with Méphistophelès leading all of the demonic powers of hell in a terpsichorean celebration of how cool it is to be the Devil. Most productions, including stagings at the Met over the last three decades leave the sequence out entirely.
Whatever one thinks of Mr. Pape playing the Devil in drag, the sartorial results are infinitely better than the 2005 production of Faust mounted at the Met. This production put the German bass in a clumsy, rubber suit covered with fake, rippling muscles.
This monstrosity (for there is no other word) appeared in the Church scene the intense moment in Act III where Méphistophelès tries to collect Marguerite's soul. The costume was a visual reference to William Blake's famous painting, The Great Red Dragon and the Woman Clothed With the Sun.
The result: an audience that couldn't stop laughing during the church scene in Act IV. Their laughter was audible during the live broadcast.
The production appeared for one season, and was never revived.
Its replacement arrives at the Met this November, a collaborative staging between the Met and the English National Opera. The staging (by Jersey Boys director Dez McAnuff) reimagines Faust as a metaphor for the creation of the atomic bomb in the mid-20th century.
Mr. Pape will reprising the role of the devil at the Metropolitan Opera opposite tenor Jonas Kaufmann and soprano Marina Poplavskaya in the role of Marguerite. Luckily for the singer, the Devil in this staging gets to wear some nice white and black suits and a collection of spiffy hats. Ms. Poplavskaya was a late replacement for Angela Gheorghiu, who was to sing Marguerite but backed out earlier this year.
There is no word yet on whether the Walpurgisnacht ballet will be included. But if it is, wouldn't it be cool if René Pape showed up in a radiation suit?