I haven't been reviewing Detective Comics because it was a book that I wasn't quite sold on.  I have nothing against Manapul and Buccellato, but I did drop off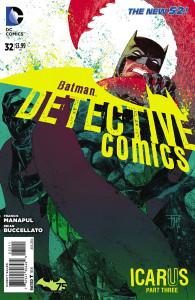 of The Flash after they took over the book.  I've always been a fan of Manapul's art and was interested to see how he did Batman.  I can honestly say that, several issues in, they are doing a pretty solid job.
This issue is part 3 of the Icarus storyline and we get a lot of insight into Detective Bullock.  Many times he is portrayed as a gruff guy just kind of standing back and commenting on the situation.  Here we see just how good of a detective he really is as he observes evidence so quickly it would make a Dark Knight blink twice.  We also see that he's a cat guy.  Wouldn't have guessed that.
Batman is going after someone named The Squid and ends up at an abandoned aquarium.  Well, maybe not quite abandoned.  There is still some aquatic life there that he will have to deal with.  It's the panels with Batman that Manapul really shines.  I really am liking how he draws him.  It kind of reminds me a little of an old school, Neal Adams style, of Batman.  He does a great job of structuring the panels to tell the story without any words and it is some good stuff.  Very different in style from top to bottom of any other Batbook out there.  And that's a good thing.
Detective Comics has become a mystery of a book.  It doesn't have the fireworks of Snyder and Capullo's Batman and gets lost a little with the weekly Batman Eternal, but it still has a place.  This creative team is just getting started and I'm looking forward to where they are going.
Storytellers: FrancisManapul and Brian Buccellato
Share on Tumblr