I was recently introduced to DecorPlanet.com, and this online store is now one of my favorite places to go for luxurious bathroom products. Many of us want to design a dream bathroom that is elegant and stylish, yet convenient and simple to use. It's definitely possible to create a bathroom that fulfills these qualities as long as it's designed with the right products. Decor Planet has a wide selection of modern, contemporary, and antique bathroom products ranging from vanities to everything else you'd need in a stylish bathroom. The large selection of items surely makes supply shopping online an effective and convenient way to get an idea of how you want your bathroom to look.
Decor Planet also comes with a blog that contains informative articles on bathroom remodeling. Some recent topics include Easy Bathroom Upgrades and Long Lasting Luxury in Your Bathroom. There's also an online chat for shoppers needing immediate assistance. The hassle free returns and price match on purchased products make using Decor Planet even better.
Bathroom remodels also have an excellent return on investment. Here is an infographic presented by DecorPlanet that has a ton of information to help you pick the right vanity, toilet, shower, tub, and the other parts of your dream bathroom. I'm always learning about the best home improvement sites out there, and I'm always glad to share them with you.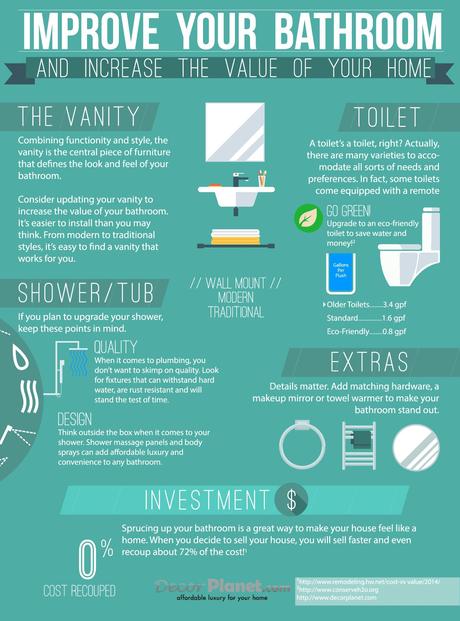 Disclaimer: This is a partnered post with the DecorPlanet.com. I received compensation for participating in brand activities and spreading the word. As always, all thoughts and opinions are my own.