Dermalogica keeps skin health in its prime with the launch of Redness Relief Primer SPF15, a new facial primer with a sheer green tint. This new formula delivers more than a typical primer, designed to calm irritation and protect skin from UVA/UVB exposure which can further aggravate sensitisation. Redness Relief Primer SPF15 produces a smooth, translucent, red-neutralising finish for an even skin tone, and primes the skin surface for a more flawless makeup application and longer makeup wear.
The distinction between sensitive and sensitized skin is that the former is a genetic trait, while the latter is a growing phenomenon with multiple causes including increased exposure to environmental assaults, stress and chemicals. In many cases, the responses of the skin to these differing conditions are similar, although the sources differ. There are two primary contributors to common skin redness: immunogenic inflammation and neurogenic inflammation. In both cases, the respective process results in pain, redness, itching, swelling and heat associated with inflammation.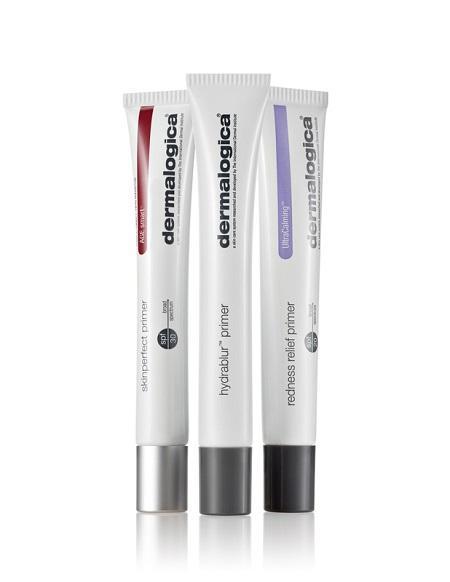 Dermalogica Redness Relief Primer SPF15
Redness Relief Primer SPF15 addresses redness in both the short and long-term, via the inclusion of natural botanical extracts of Yeast, Oat and Oat Kernel Oil which offer immediate calming effects on the flushed appearance of skin. This irritation is often caused by over processing, dehydration resulting from extremely low pH (2.5-3.5) or high pH (above 8) from soap-and-water cleansing, strong AHA products, allergens such as pollen and artificial fragrances, contact with environmental irritants, sun exposure, stress or other sources of inflammation.
Dermalogica Redness Relief Primer SPF15
The extract of Oat, or Avena Sativa, is rich in avenanthramides, the active phytic component proven to have natural anti-redness and anti-irritant properties. Dermalogica's proprietary UltraCalming Complex supports the ongoing recovery of irritated skin tissues, reducing hypersensitivity as it neutralises the inflamed appearance of skin following an exfoliation procedure, or in the treatment of other conditions which result in redness.
Natural botanical extracts provide the sheer green tint to camouflage the redness, which often accompanies irritated skin. A silicone base provides a matte, velvety feel that protects the integrity of the skin's essential lipid barrier from further aggravation. The product's SPF15 provides powerful daily defense against sun exposure to prevent further skin inflammation and sensitivity. Redness Relief Primer SPF15, 22ml, RRP $70, will be available from April 7, 2016 at authorised Dermalogica spa, salons and skin centres nationwide and online from buy.dermalogica.com.au.