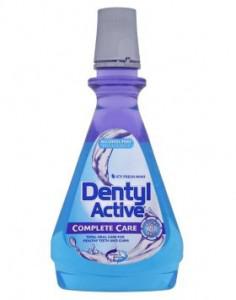 Dentyl Active Mouthwash helping protect your teeth from dental decay and enamel erosion. This amazing mouth wash is alcohol free and contains double the amount of flouride than all other leading brands.
Dentyl Active is the only mouthwash that allows you to visibly see it's working as it highlights any plaque and debris in the sink after you've rinsed your mouth out.
Dentyl active helps strengthen enamel by replacing any lost minerals and helping your teeth become more resistant to acid attacks.
I decided to put it to the test after being asked to give an honest review of my findings.
The mouth wash had an exhilarating icy fresh mint flavor it's also not over powering like some major brands. It left my teeth feeling squeeky clean. I was able to see results within a few days of using Dentyl Active. It also helps maintain healthy gums, tastes great and provides long lasting fresh breathe.
To ensure you get the best results its strongly suggested that the mouth wash is used twice a day.
Available in all Major supermarkets.