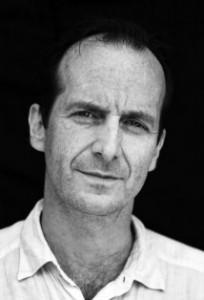 Denis O'Hare's exclusive phone interview with Collider is an insightful peek into the mind of the actor and the challenges of the role that he plays as Larry Harvey on FX's newest psychological thriller, American Horror Story, which debuted October 5, 2011.  The series has consistently improved its ratings since its pilot episode. Executive producers Ryan Murphy and Brad Falchuk appear to have backed the right horse in this competition to secure a faithful following.
The series is about a family of three who move from Boston to Los Angeles in an effort to make amends with their past, only to find out that they are not the only residents of their new home.  They will be forced to face their fears, and their past, while living in a home that may have more secrets than they do.
Denis O'Hare plays Larry Harvey much like his character Russell Edgington, the King of Mississippi on HBO's True Blood.  It appears that O'Hare has an eye for selecting roles that are going to become huge hits.
When asked how he would describe this series to people he responded:
"It is difficult, I've said it's like The Shining meets Twin Peaks meets The Amityville Horror meets Lars Von Trier's The Kingdom. It's got elements of all of that. It's got the weirdness of the population of Twin Peaks, it's got the crazy momentum of The Shining, and it's got the haunted house, slow motion reveal of The Amityville Horror. But ultimately, it's its own thing and it lives in the mind of Ryan Murphy."
O'Hare assesses what kind of audience this show will draw in, and speaks very highly of his cast-mates:
"I think there's a really big overlap between sci-fi and horror…When you've got unbelievable actors like Connie Britton, Jessica Lange, Dylan McDermott and Frances Conroy, you're going to be drawing in a different dynamic. Jessica Lange, alone, raises the bar so high that it peaks people's interest. Connie Britton, coming off the success of Friday Night Lights, certainly brings an audience with her. We may even get some vampire fans watching the show."
If O'Hare's performance in American Horror Story is anything like that of his role on True Blood, he is certain to gain a loyal following. He speaks of his role as Larry Harvey with a passion unique to many interviews that are out there.  It is evident that O'Hare is completely connected to his character, and is excited to watch this character develop. The imagery that he uses makes it impossible for the reader not to be interested in this character. He refers to Larry as "a Dante-esque figure, stuck in the 5th Circle of Hell and struggling to get out." He believes that "as the series develops, even what we think we know about him is not accurate." O'Hare continues to create intrigue around Larry's depth of character:
"Even in the pilot episode, we see Larry being a menacing, twisted, awful figure who then, during the scene with Dylan McDermott on the bench, becomes the object of pity who is absolutely a human character feeling incredible amounts of pain. That, to me, is fascinating."
When questioned about whether or not he believes Larry to be evil he replies:
"To me, he's definitely not evil. Evil is such a simplistic way to describe any character, be it Iago or Caliban, or any character from history. What I'm attracted to is the fact that he, like everyone, is yearning to be loved, to be released, to be redeemed, and to be at peace. Each episode only adds more complications to it. I'm always getting so much information that is new."
Psychological thrillers attract a wide audience, the idea of the unknown, and the revelation of the human mind and how it works, is something that draws in the viewer. It creates questions in the mind of the audience and asks the viewer to search into the depths of their own souls to challenge the similarities that may exist between themselves and the characters portrayed.
O'Hare is asked if he is normally a fan of this type of genre, and his response draws on some simplistic comparisons that are both revealing and insightful:
"I'm not into what I would call torture porn, like all the Saw movies and those kinds of things. I find that repugnant. We have enough violence in this country that I don't feel like I need to sit through that stuff, and I don't see the point of it. But, good old-fashioned horror, I love monsters, I love creatures, I love beings, I love aliens. That's more supernatural and more the stuff of fairy tales. Fairy tales are as ancient as we are. I love those stories. I think they're really interesting because they always have more than simply the fright aspect. There's something deeply psychological. When you think of Grimm's fairy tales, they are deeply, deeply psychological. They're so powerful, so bloody, and really, really disturbing. Think about five-year olds reading that stuff. Even Little Red Riding Hood is a really freaky story. Grandma is gobbled up by a wolf, and the wolf is going to eat the girl. That's scary stuff. They're about our deepest fears. And this show is about our deepest fears. It's a way to exorcize them or understand them."
 On His Potential Return to True Blood:
In the finale of Season Four's True Blood the audience is left with the jaw dropping revelation that Russell Edgington, the King of Mississippi's stay in a concrete slab has been cut short — how, we are uncertain, but one thing's for sure, the King is no longer a prisoner of Bill (Stephen Moyer) and Eric (Alexander Skarsgård).
It is obvious that O'Hare is excited about a potential return to True Blood:
"I had been hearing rumors and things, but until I actually heard there was a script, in which they went to the parking lot and found a hole in the ground and chains, I wasn't sure. I've been in contact with people from True Blood, and I'm friends with a lot of them, and Joe Manganiello, who plays Alcide, actually told me first. He was like, 'Dude, there's this scene where I go to the parking lot and you're not there anymore,' and I went, 'Yes!' I'm really thrilled, I love that family. Alan Ball is such a spectacular person to be around and to work for. I'm really excited to get to go back and join them, and I love the character. I can't wait to pick up where he left off."
I'm sure I speak on behalf of many True Blood fans when I say that we can't wait for Denis O'Hare's return to the show, to see how King Russell Edgington will inject himself into the lives of Sookie (Anna Paquin), Bill, and Eric, and unleash a whole new storm of madness, coupled with a deep desire to avenge the love of his life.  In the meantime be sure to tune into FX on Wednesdays at 10pm to catch the all new American Horror Story episodes. For Canadian viewers you can catch the premiere on FX Canada this coming Monday, October 31 in a special Halloween premiere.
So Truebies, have any of you caught this new show? What do you think?
Sources: Collider.com – Denis O'Hare Talks American Horror Story, J. Edgar, and His Return to True Blood
TV By the Numbers - American Horror Story Hits Series High Ratings in Episode 4
Toronto.com - FX Canada Launches Monday with American Horror Story
Photo: IMDb