Demi Moore to File Divorce Response.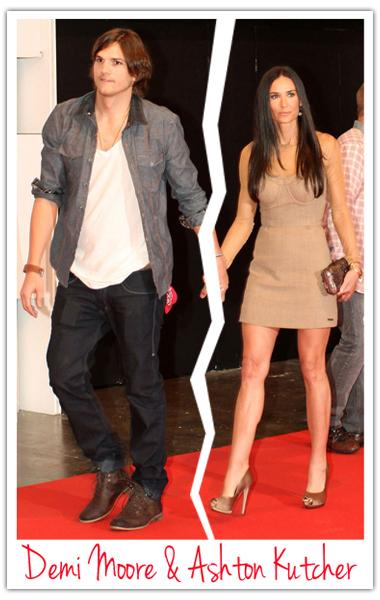 Demi Moore and Ashton Kutcher could be heading for a $250m divorce battle after failing to make a confidential deal over their separation.  Futile attempts have been made to end this amicably and the pair may now end up in court to resolve their differences. Kutcher, 35, is said to have become 'hostile' whilst Moore, 50, has supposedly 'had enough' of his refusal to budge.
The couple split in 2011 after six years together and ever since there has been speculation about why hasn't there been a formal divorce.
Demi hasn't responded to the papers that were filed in L.A by Kutcher in December and for the process to move forward it is important that both parties have to file their paperwork.
A source told the New York Post that money could well be the issue – Kutcher is the highest paid actor in US TV and earned more than $24 million last year from the comedy show 'Two and a Half Men' while Demi's earnings are still associated to her hit films in the 1980s and 90s.
'Ashton made a lot of money after marrying Demi – a lot more than she made – but despite him becoming just as famous through her, he believes he doesn't owe her that much.'
'Ashton has been very difficult during the talks. You could even say he has been hostile.
'After over a year of attempting to reach a settlement, Demi is definitely ready to move on in.' It's hoped lawyers for both sides can reach a settlement this spring, otherwise the divorce will go into litigation and trial.'
Both parties have called in heavyweight lawyers and Moore is being represented by New York-based William Beslow, who recently won a large settlement for Linda Evangelista against French businessman François-Henri Pinault over their five-year-old daughter.
Kutcher has hired Los Angeles celebrity lawyer Laura Wasser.
Since their break-up, Kutcher has been dating his That '70s Show costar Mila Kunis– prompting stories that Moore was jealous. Kutcher took Kunis home to Iowa over Christmas to spend time with his family. Moore's marriage to Kutcher raised eyebrows not only because of the 15-year age gap, but also because he was not that much older than her own three daughters from her previous marriage to Bruce Willis, 57.
Moore said after their split: 'As a woman, a mother and a wife there are certain values and vows that I hold sacred, and it is in this spirit that I have chosen to move forward with my life.'
He added: 'I will forever cherish the time I spent with Demi. Marriage is one of the most difficult things in the world and unfortunately sometimes they fail.'
Demi and Ashton were married on the evening of September 24, 2005 in Beverly Hills at their home in a traditional Kabbalah ceremony. Their rings were designed by Neil Lane. Her ring was a five-carat emerald-cut jewel that was rumored to be worth about $250,000.