Got a recipe request from one of my facebook fans and glad to share this with the rest of you! It's my veggie-filled Rice Pancake, inspired by my girls.  (Or shall I say to keep the rice from escaping to the floor. lol!) Since we're having a BREAKFAST BAR at my @Nutri-Savvy FB page this week, why not make this the night before and reheat to serve it up for Breakfast?! It's got plenty of nutrients to get you going! Please feel free to share your fave Breakfasts on my FB page – hope to see you there!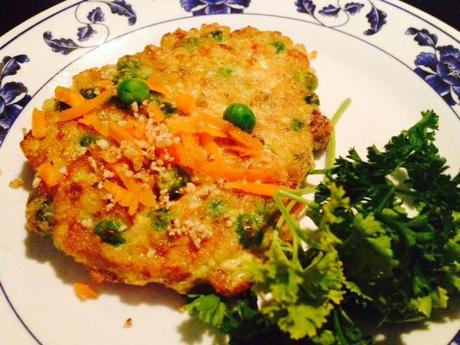 My li'l girls love rice and happily gobbled up my UNfried rice dish the other night. It was loaded wit shredded carrots, shredded zucchini and dotted with peas. Using only cooking spray and a little tamari and minced garlic, this dish was coming together quite well. For my girls I left out my fav seasoning — Ginger – but added in plenty of it for me! A successful easy dish, but when I made it the next week, my hubby complained the kids would get the rice all over the floor. Sure they manage to eat plenty – but that sticky rice always finds its way onto the floor. So I compromised and made rice cakes instead. No, not those crispy, airy snacky fillers, but more like potato pancakes except with rice instead of the root starch.
Here's the recipe:
2 cups of steamed brown rice (yes, you can use white but you'll be missing some great nutrients)
1/2 cup shredded carrots
1/2 cup shredded zucchini
1/2 cup of peas
2-3 garlic cloves, minced
1/2 tsp of shredded ginger (or to taste)
1-2 tsp Tamari or low sodium soy sauce
cooking spray
3-4 eggs
Up to 2.5 Tbsp of potato starch or flour
Optional garnish – any of your remaining shredded veggies, chopped parsley and crushed almonds
Steam rice and set aside. In a non-stick cooking pan heat cooking spray and add minced garlic. Heat until soft. Add in veggies (carrots, zucchini, peas) — heat until warmed and softened. Lastly fold in rice and mix in Tamari. Your "Unfried Rice" is complete! For rice cakes or shall I say veggie-filled rice cakes (or "Un-potato Pancakes"): Beat 1-2 eggs per cup of Unfried rice and mix it all together. Add 1-2 tsp of potato starch or flour (1 use Pamela's GF baking/pancake mix). Pour a little oil into frying pan and heat. Then add a dollop of the mixture. Turn when golden and heat until the other side is crisp. Pat dry with paper towel. Garnish with shredded carrots/zucchini parsley and crushed almonds. Note: It's delish right out of the pan or reheated for breakfast with a Tbsp or 2 of applesauce. Try making my homemade applesauce. It's deliciously simple!
Filed under: diet, healthy lifestyles, Nutri-Savvy, nutrition, parenting, Recipes, Simple Meals