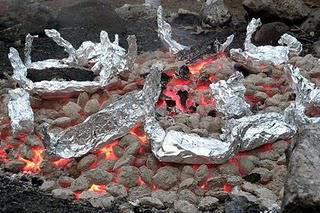 In Montana, fish and summer go together naturally. Whether you eat your fish in the campground or back at home, here are some tips for delicious, quick, and health-smart fish meals.
Fish is done when the color turns from translucent to opaque (white) or has reached 140 degrees F to 145 degrees F internal temperature. Do not overcook.
Grill it!
The best grilling fish are sturdy and fattier, such as grouper, salmon, tuna, swordfish, and trout. Use a very clean, lightly oiled grill or a cedar plank (presoaked in water). For delicate fish, use a grill basket or two layers of foil. Remove fish from the basket or foil as quickly as possible so it doesn't stick. Most fish will cook in 4 to 6 minutes per side.
Bake it!
Heat oven to 450 degrees F. Spray a baking sheet or shallow dish with nonstick cooking spray. Place fish in a single layer; season as desired. Bake 10 minutes per inch, uncovered or until fish is done. Fish also bakes in parchment paper (folded over and sealed with a few cherry tomatoes, fresh herbs, a little wine, and green onions) for about 20 minutes.
Sauté it!
Three tips can sauté fish perfectly every time: (1) Use just a bit of olive oil; (2) make certain the pan is thoroughly preheated; and (3) do not overcrowd the fish. Sauté thin fillets over medium high heat for 2-3 minutes; then turn, cook 1 to 2 minutes more. Remove pan from heat and let the residual heat cook the fish. Sauté thicker fish 4 to 6 minutes per side.
Poach it!
Poaching is a cooking method that involves hot liquid, this case milk. Put a firm fish fillet, such as haddock, cod, or salmon, in a small baking dish and cover with non-fat milk. Sprinkle the top with some seasoned bread crumbs and grated Parmesan cheese. Bake fish at 400 degrees F for about 20 minutes, depending on the thickness of the fillet.
Microwave it!
Spray a microwave-safe dish with nonstick cooking spray. Cut fish in half and arrange in dish so thick center portions are to outside; place fish in a single layer and do not crowd. Microwave on high 5 to 10 minutes, depending on amount and thickness. Make sure to rotate the fish halfway through the cooking time so the fish cooks evenly.