Hi everyone,
This is my last post in the series of University Reviews. Today I shall be talking about the famous Delhi University located at the capital of India - Delhi . Being born and brought up in Mumbai, India I have never been to Delhi but I have heard so much about the University from my fellow friends who are Delhiites and also through the internet & social media. Let us find out more about it in my post today...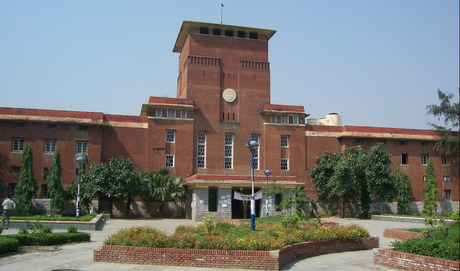 The University of Delhi is the chief university of the nation and it is also amongst the best universities of the world. It was founded in  the year 1922 by an Act of the then Central Legislative Assembly. The University offers UG, PG, M.Phil, Ph.D, Certificate/Diploma/Advanced Diploma Courses in various fields
The point when the University was set up, just three colleges existed in Delhi then: St. Stephen's College, Hindu College and Ramjas College, which were therefore partnered to it and the university accordingly had a humble starting with two personnel (Arts and Science) and around the range of 750 scholars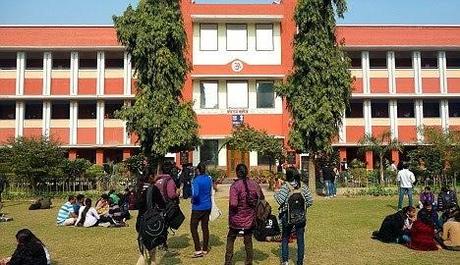 Its rich scholarly convention has dependably pulled in the most capable scholars who later on happened to make critical commitments to their social order. In October 1933, the University business settings and the Library moved to the Vice Regal Lodge Estate.This site houses the business settings of the principle functionaries of the University. The University has developed into one of the biggest schools in IndiaThe university has two main campuses- one in North Delhi and another in South. The campus at North Delhi is the home to prestigious institutions such as Miranda House, Hindu College, St. Stephen's College, and Delhi School of Economics etc. and the South Campus is the home to the Faculty of Arts and SP Jain Centre for Management Studies etc.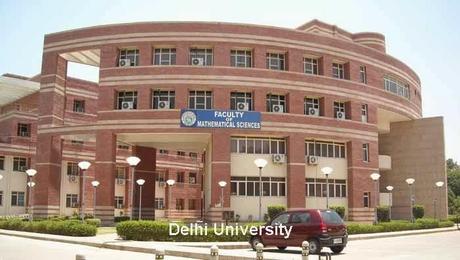 At present, there are 77 colleges under its affiliation with 86 departments and 5 recognized  institutes  spread all over the city and the number of students are more than 13,2435 encompassing UG, PG and Ph.D. programsCentral Placement Cell:The campus has placement cell in which students placed in reputed multinationals, government Organisations, NGO's and the private sector. Placement Statistics 2014 :Name of the company/ No. of StudentsWhirlpool India Pvt. Ltd -  6Ingenious e- Brain Solutions -  2Freight System - 4Wipro  - 24AON Hewitt -  82Oravel Travel - 18Medley Marketing Pvt Ltd - 11Perkin Elmer - 3HT Studymate - 36Housing .com -  15
Alumini:Narendra Modi, Prime Minister of India and former Chief Minister of GujaratSheila Dikshit, former Chief Minister of Delhi and  Governor of KeralaMadan Lal Khurana, former Chief Minister of Delhi and Governor of Rajasthan;Fakhruddin Ali Ahmed, the fifth President of IndiaSalman Khurshid, Minister of State for Corporate and Minority AffairsNaveen Patnaik, current Chief Minister of OrissaThe university has produced a number of noted actors such as Shahrukh Khan, Amitabh Bachchan, Arjun Rampal, etcLibrary:The library of D.U started in 1922 with a collection of 1380 Books. Now, The Delhi University library system (DULS) holds more than 14 lakh books. DULS consists of 34 libraries such as e-resources, south campus library, central science library, Ratan Tata Library, Law library, East Asian Studies Library, Brallie Library etc. DULS subscribes to a large number of electronic databasesThe collection of DULS comprises of following:Document Category                               NumberBooks                                           14,50,000 VolumesCurrent Journals                                        1,290Bound Journals                                       3,66,000PhD Thesis                                               14,500M.Phil Dissertations                                    5,600Manuscripts                                                  700CD ROM                                                   2,000
Computer Centre:
The Delhi University Computer Centre (DUCC) has a huge network system. It provides networks to all departments at the North & South Campuses, all Colleges as well as 64 off campus Colleges. Now, there are over 11000 network access points. Services available to users include access to the internet through 36 Mbps bandwidth in North Campus and 24 Mbps in South Camp such as Email services, Web Hosting, Anti-Virus and Spam Protection, E-journals & on-line Database, E-prints & E-books Archives, DUCC Membership
The DUCC also conducts various training courses and programs related to Information and Communication Technology (ICT) for students, faculty members, and non-teaching staff of university.Hostel:The campus facilitate 15 hostels in north campus and 3 hostels in south campusUniversity Press:Delhi University Press (DUP) stated in 1961 in which all kinds of printing, binding and related work can be done.University Radio:Delhi University Community Radio, DUCR 90.4 MHz was started in 2007 using the station for disseminating information about the admission process, through live phone-in programs with students and parentsScholarships:Undergraduate Scholarships - Dr. V.K.R.V. Rao Endowment Book-GrantSh. Prem Prakash AwardShri Uggersain Memorial Endowment Book-GrantPost-Graduate ScholarshipsDelhi University & All India Post –Graduate ScholarshipHis Holiness The Pope ScholarshipShri G.L. Mahta Memorial Book-GrantDepartmental ScholarshipsHamdard Educational Scholarship in PersianDatia Darbar Endowment Scholarship in EconomicsDr. G.S. Sarin ScholarshipMadan Mohan Memorial ScholarshipRanking:
The Delhi University results & ranks as follows
The college has been ranked 1 by India Today Survey 2014
The college has been ranked 97 in the Youth Incorporated, Education Times and Rediff.com
The college has been ranked between 441 by QS World University Rankings 2013/14
The college has been ranked 81 441 by QS University Ranking Asia 2014
The college has been ranked 39 by QS World University Ranking BRICS Nations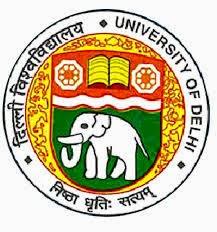 The University has the following courses:Engineering -  52 coursesArts - 180 coursesEducation - 9 coursesCommerce - 9 coursesScience - 88 coursesDental Science - 1 courseParamedical - 5 coursesMedical - 31 coursesPharmacy - 1 courseManagement - 15 coursesMass communications -  1 courseAgriculture - 2 coursesComputer Application - 1 courseLaw - 4 courses
As I went through the information of this University I found it pretty impressive. It has something for most people. Studying in Delhi is also a different feeling altogether. As much as I like the other universities especially the Mumbai one which is close to my heart I also liked Delhi University. Their Alumni is impressive. It  is an awesome University to enrol in due to the various courses they offer.
I hope the information provided was helpful & useful to all those reading. Please leave a comment below with your inputs. New bloggers/visitors may leave their blog links for me to check out.
Until next time... Happy Friday xoxo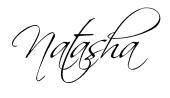 P.S: The Images for the post have been googled and the credit goes to their respective owners.