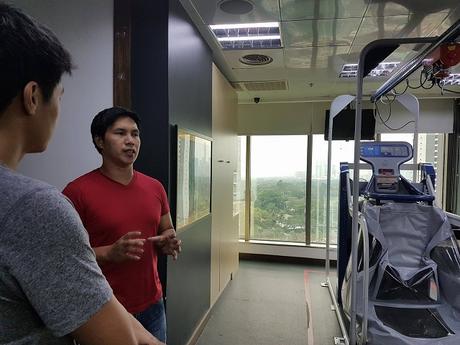 It's time to try d

efying gravity.  

I think I'll try d

efying gravity

Kiss me goodbye 

I'm defying gravity.  

And you won't bring me down
Exactly what I felt when I tried the AlterG Anti-Gravity Treadmill. When a good friend, Jeff, gave me a rundown of the treadmill I knew that I was in for a unique experience. I did look it up and saw why such device was made in the first place. Even knowing what it is, I still had no idea what to expect. There are just some things that you got to try out to get a better understanding.
They've asked me to don a tight neoprene shorts, it actually looked like a Tutu, which zips unto the treadmill's air chamber that envelops your entire lower body. The machine first measures your body weight. Edman (clinic supervisor) chose 50% of my body weight that I will train at. The air chamber inflates around your lower body to achieve the desired pressure. Edman then increased the pace and he stopped at 8 minutes per mile.
I will be honest. I have not run at this pace for almost a year. I was ready to scream before I run out of air. Surprisingly I was able to sustain it. I would've been able to pull a PR if I had more time on the machine. Seriously. Much of the work was handled by the treadmill. I was running on a lighter load thus my knees and ankles had little pressure on them. Still on 50% of my weight, I was given a taste of 5 minutes per mile. Seriously quick. Took me about 10 seconds, maybe less, before I called it quits.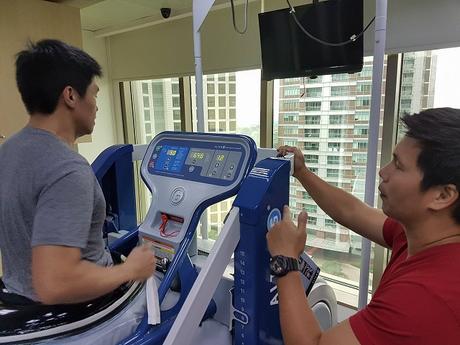 Now here comes the million dollar question(s).
Is it worth your time?
The benefits are unquestionable. You will be able to train with minimal pain, exercise more with reduced stress on joints and muscles, and recover effectively.
Is it economical?
It will set you back $30 for a 15-minute session with the AlterG. Yep, thirty bucks for fifteen. Let's get real here for a second, I wouldn't part my hard-earned money just to have a quarter of an hour on the treadmill. If it is an hour (or more), I just might book myself up for 10 sessions.
It makes a lot of sense if you are undergoing rehabilitation or recovering from a serious injury. It is a medical device after all. You will definitely need this if you are a competitive athlete backed with sponsors, or have deep pockets, that will give you access to this piece of technology. For a regular Joe, like you and me, who loves running as a form of recreation - this is something that you would want to put in the low end of your priority list. Do not let me take away the fun of experiencing AlterG. If you got the extra dough, visit their clinic and look for Edmar.
Kinetics Advance Physiotherapy
Unit 1102, 20th Drive Corporate Center
20th Drive, Lot 14, Block 2, McKinley Business Park
Fort Bonifacio Global City
Mobile: +639154260680
Website: www.alterg.com.ph
Email:
[email protected]