Defender case from Otterbox is specially made to fit new iPhone 5S. 
Since iPhone 5 and currently one of the most desired phones on Earth, iPhone 5S, are of same dimensions, many iPhone 5 cases can fit new Apple flagship. However, the problem may occur in the home button area and the fingerprint reader implemented within. The case shouldn't cover or interfere with the home button because it will not work properly. Having that in mind, one of the most popular mobile accessories manufacturer, Otterbox, designed a case that works perfectly with the fingerprint reader.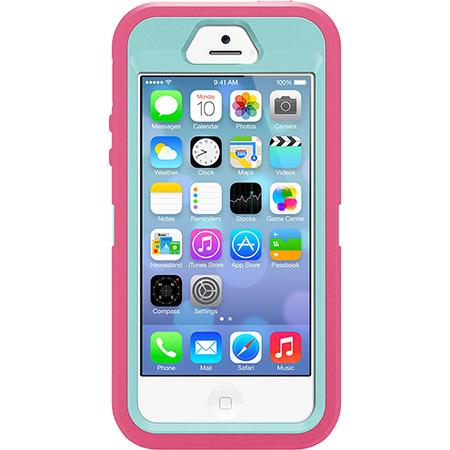 Defender Case for iPhone 5S by Otterbox
Otterbox added new case to their Defender series that is customized for iPhone 5S and its innovative features. This case comes in several layers that will provide your delicate smartphone with high level of protection in case of accidental drops, shocks, scratches and dirt. Otterbox Defender case for iPhone 5S is extremely strong and made of rigid poly-carbonate, while the integrated screen protector keeps the screen of the iPhone 5S free from scratches and fingerprints. Just like all other Defender cases from Otterbox, this one also comes with a removable belt-clip that can be used as a convenient stand for media watching or a hands-free use. However, the most important fact about this iPhone 5S case is that it does not  impede functionality of Touch ID fingerprint reader.