Hey Friends!
Somehow, September hits and then BAM, it feels like FALL where I live!
I already have one little munchkin in school and this Tuesday 2 more will start.  It's crazy that I have a kid starting high school.  WHAAAA?  Dang it, I still feel like I'm 20, but I suppose I am OLD now ;-)
Along with the season comes gorgeous fall colors.  It's fun to be able to light the fireplace and candles!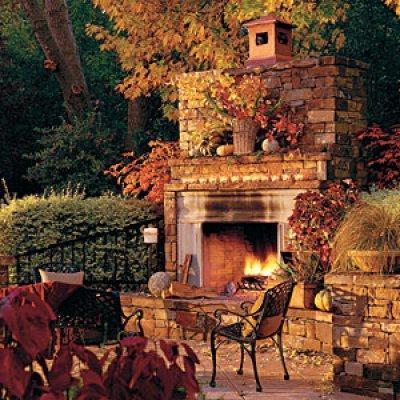 Southern Living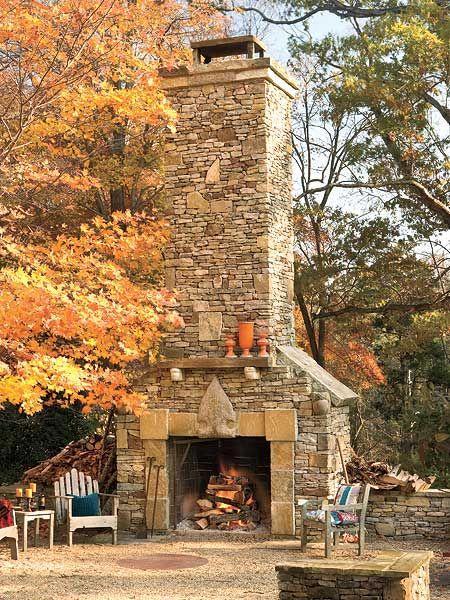 myhomeidea
I LOVE all the WARM autumn colors that pop up out of no where in nature.  I personally tend to decorate around warm Autumn colors......colors that make you feel cozy and ready to cuddle up by the fire. :-)  Add a cute fluffy dog and your set - haha! You can see the entire Tuscan living room transformation by clicking on the link. :-)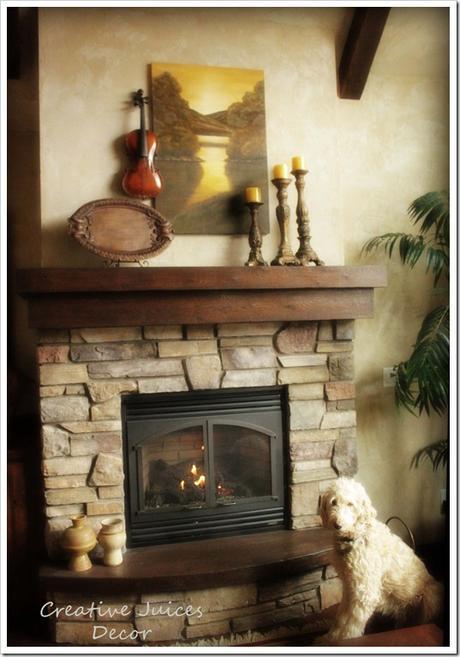 This Autumn living room setting is wonderful.  I SOOOO need a glass of wine and a good book, and then I plan to snuggle in the chair below and listen to peaceful music :-)  Come and join me!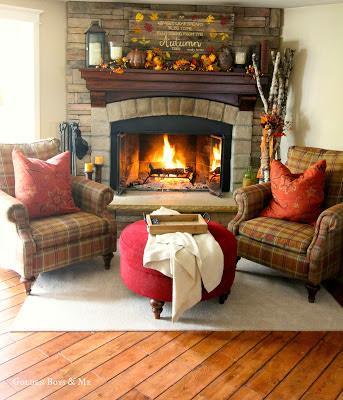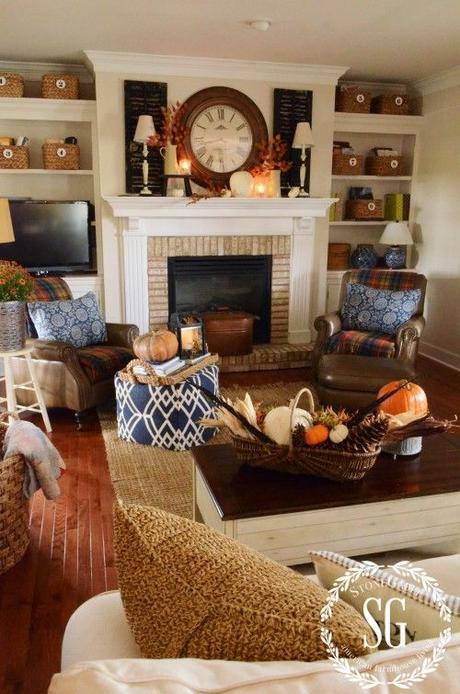 Stone Gable Blog
Notice the natural elements like the distressed wood and displayed fall leaves.  The splashes of orange burlap pillows are perfect.  I'm just going to ignore the hanging spider art - hee,hee.  That did nothing for me! (except make me want to RUN away!)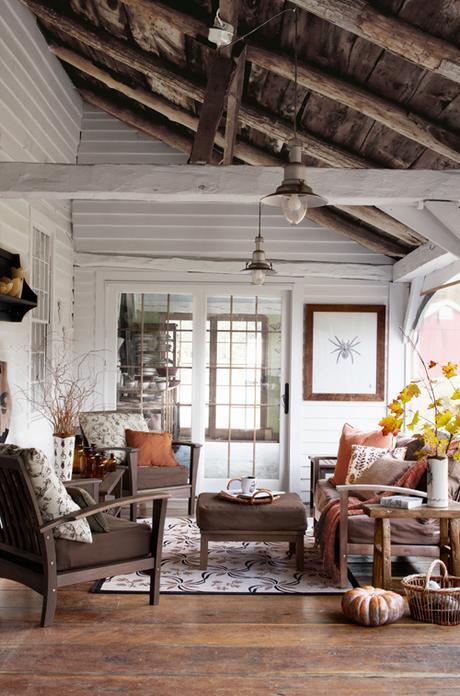 The orange lamps and greenery really make this space homey.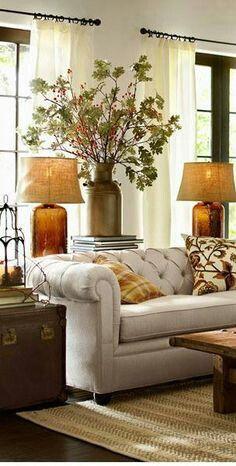 Isn't this entry way so inviting!  Her whole home was GORGEOUS!  Take a look at her blog for lots of inspiration :-)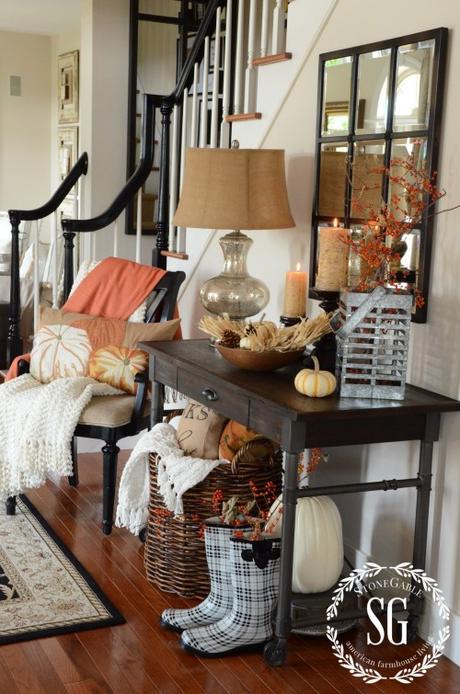 Stone Gable Blog
These next two pictures speak for themselves - classic fall color scheme!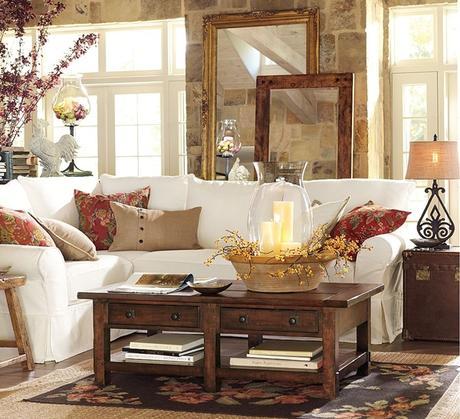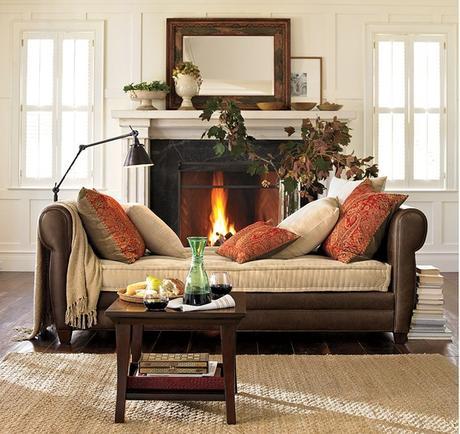 I love the BOLD move of the orange sofa :-)  It works so well with the green walls and neutral floor.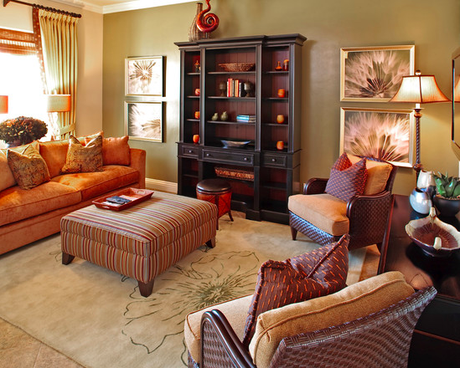 What do you think of the WARM color tones? Inviting or just not your thing?
I always find it fascinating how color can have such an effect on how it makes you feel in a home!
Don't miss out on Selina's home decor tips and inspirations - Sign up to receive her once a week post :-)
Enter your email address:
Delivered by
FeedBurner
If you enjoyed this post, you can click the blue SHARE TO FACEBOOK button below :-) I'd appreciate it! You can also head over to WWW.CREATIVEJUICESDECOR.COM and sit back, relax, grab your cup of coffee and check out my other DESIGNER SECRETS and FUN CRAFTS on my blog. (Thanks my friends!)