This weekend we were on a mission to make headway with the never ending decking project. All the wood was at my Lovely Fit Chap's (henceforth known as LFC) house, so there was just the 'small' task of getting it over to Chook Cottage.
He arranged to borrow a van from work, and duly arrived to pick me up on Friday evening. The van was massive – so maneuvering it around my narrow-ish street was no mean feat – but the boy did good, and we made it through the entire weekend with no mishaps whatsoever.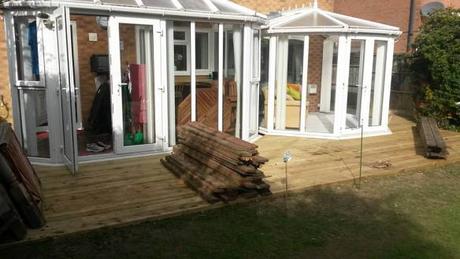 Just some of the wood to load up
Without further ado we whizzed across to his house and started the mammoth job of getting all the wood loaded up.  We soon had a brilliant system in place where he brought the wood to the van, and I stacked it up in an orderly fashion – so we knew where everything was at the other end. As well as all the decking planks, we had a big pile of rough wood to chop for the fire, and three sections of the old decking base which we planned to turn into raised vegetable beds.
These were first off the van at the other end and we positioned them on the slate garden I laid last year. I set about moving the slate and taking the weed membrane out of each section ready for the topsoil and eventually the plants to go in.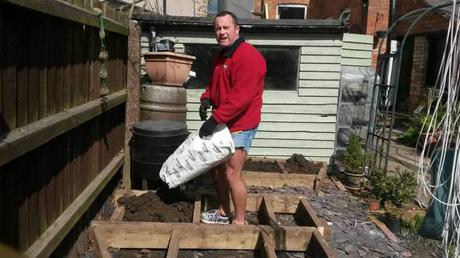 Raised beds in progress
Next off the van was the wood for the decking. As fast as LFC could unload the wood and bring it to the garden, I was busily putting it in place on the base, to make sure we had enough planks to complete the job. In no time at all, it was all down in rough and we can finally start to see how the finished project will look. I know I'm biased, but I think it's going to look pretty darn good!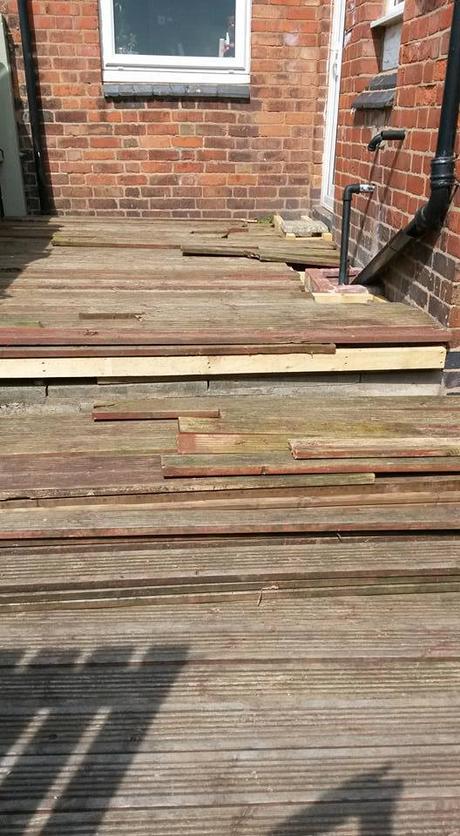 Rough decking