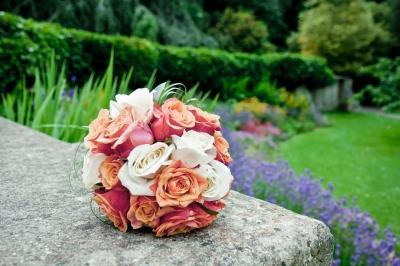 There are a zillion details a bride must address and tend to when planning her wedding. One of the most important decisions is the bridal bouquet, which should complement the bridal gown and reflect the bride's personality as well as the 'tone' of the entire wedding.
After selecting your bridal gown and accessories (veil, jewelry, shoes, etc.) determine the type bouquet you will carry. There are numerous options. Pick the look that is you.
Cascade
An excellent choice is the cascade style bouquet. It is formal and one of the more traditional types of bridal bouquets. This style is sometimes called a teardrop bouquet or waterfall bouquet.
The cascade bouquet flows downward and features trailing ivy and other types of greenery, which result in the cascading effect. A delicate and timeless look, use lilies and hydrangeas which look particularly good in a cascading bouquet as do orchids and roses.
The cascading bouquet can be securely bound or, if you prefer, styled in a looser fashion, depending on your preference. Tell the florist exactly what you want. Perhaps she will whip up a preview bouquet for you to view prior to the big day. You can see precisely what it's going to look like. (P.S. If you are a pregnant bride and want to conceal your growing belly this is the perfect bouquet for you.)
Hand tied
When a bouquet is hand-tied the flowers are firmly gathered together and the stems are bound in ribbon, usually satin. This style is currently very popular. Dress up the bouquet adding beads, crystals, brooches or anything that strikes your fancy.
Nosegay
When a bridal bouquet is round in shape and packed closely this is called a nosegay. It appears to be a ball of flowers. Some florists refer to this as a posy bouquet or Tussie Mussie. Generally, the nosegay is about 18 inches wide and thickly packed with the flower or flowers of your choice.
White
The all white bouquet never goes out of style. It is unforgettable and eternal.  Incorporate different flowers in all white or in varying shades of white such as ivory, champagne, off white or pinkish-white into this arrangement. Add some greenery and the result is awesome.  The white bouquet can be a nosegay, cascading or hand tied bouquet.
Diverse
Your taste is eclectic and an unconventional so reveal this in your bridal bouquet. Incorporate feathers into the bouquet or other unexpected objects. Perhaps you want to put your grandmother's picture in the bouquet. Do it. Or you want to incorporate a swatch from your mother's bridal gown into the arrangement. Go for it.  It's your wedding and your bouquet so do as you want.
The very modern bride
If the only thing old-fashioned about you is that you are getting married, wearing white and doing it in a church, while the rest of you is extremely contemporary, express this in your bouquet. It can be whatever shape or design you choose. Use spiraling flowers, pods, big blossomed flowers that aren't usually seen in a bouquet, add ribbons, beads and even lace to the arrangement.
Nature girl
Pick wildflowers from your yard (or your neighbor's yard, with their permission of course) and create a simple, inexpensive but beautiful bouquet.
Pageant look
Some brides opt to carry a bouquet that is reminiscent of the bouquets that are carried in the arms of beauty pageant winners (e.g., Miss America.)
Single flower bouquet
A bouquet can consist of one solitary flower. This is a striking and unexpected look. Flowers that lend themselves to this design include peonies and dahlias, because they are large.
Tiffany Wells is a professional blogger that writes for Afloral.com, a leading online retailer of wedding flowers and floral supplies.