I've used up quite a few things in the last or month or so and I thought the best thing would be to split the post into 2, so here's part 1 which includes body, nail and skincare products. I'm very guilty of leaving a tiny amount in a product and moving on to something else rather than just finishing the product off, so December was the month that I finally finished these products for good! As always I'll give you my thoughts on each used up product and whether I would repurchase or not.
B. Pure Micellar Water - Micellar waters took over the blogging world in 2013 and this was the first one that I tried (before falling in love with the L'Oreal Micellar Solution). This cleansing water does a good enough job at removing makeup and any other dirt on your face, but it's not the best for removing stubborn eye makeup as it takes a good few swipes to get the job done. The formula also doesn't make the removal of eye makeup very good as it's not very gentle so it can sting your eyes. I won't be repurchasing this micellar water simply because I've found the L'Oreal version to be so much better.
Nivea Daily Essentials Refreshing Toner - I love using toners to refresh my skin after cleansing and also to make sure I've removed all of my makeup, and this offering from Nivea did the job very well. It's such an affordable product that lasted me quite a while as you only need to pour a tiny amount onto a cotton pad before using. I'm not very loyal when it comes to toners as I love to try out others and see if they do anything extra special for my skin, so for that reason I won't be repurchasing this product (not straight away at least).
Sally Hansen Acetone Free Nail Polish Remover - I found this half used bottle of nail polish remover in the bathroom cupboard so it was about time that it got used up, and I have to say that I wasn't wowed by it. I was expecting great things as it's from Sally Hansen but the formula just didn't do a great job of removing my nail polish. Removal took longer than it usually would with my bargain bottles of nail polish remover from the supermarket so for that reason I wouldn't repurchase this product.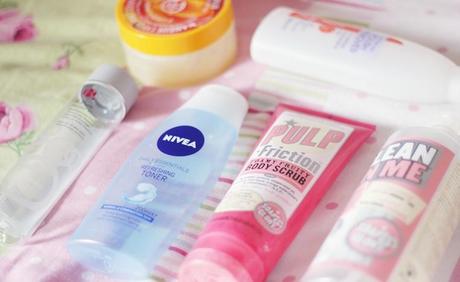 The Body Shop Mango Body Scrub - I'd become a bit lazy when it came to body scrubs so I've really been on a mission to regularly exfoliate, and I finally came to the end of this scrub. As much as I love products from The Body Shop, I'm just not a fan of the body scrubs because of the oily residue that's left on your skin. I prefer gritty scrubs that really feel like they're buffing away dead skin so for that reason I wouldn't repurchase this product.
Soap & Glory Pulp Friction Body Scrub - Oh look, another body scrub! Thankfully I really enjoyed using this one and was so happy with how long the tube lasted as you don't need to use very much each time. I loved the texture of this scrub as it's somewhere in-between gritty and soft so it's not too harsh on the skin but still feels as though it's doing the world of good. I especially love using this scrub for exfoliating my legs before shaving as it leaves my skin lovely and smooth. This is a definite repurchase for me!
Soap & Glory Clean On Me Shower Gel - The final product is my absolute favorite shower gel from Soap & Glory. This is the third big bottle of Clean On Me that I've used up and I really can't get enough of the creamy formula and gorgeous scent. This product really does make showers even nicer as it's so moisturising on the skin and a little goes a very long way from this huge 500ml bottle. I will definitely be repurchasing this shower gel when I've used up the S&G Sugar Crush Body Wash that I received in the Yule Monty gift set at Christmas.