The Decathlon dropper post is completely changing the way in which the seat post market is going. There's no doubting that in recent years dropper posts have become one of mountain biking's modern essentials. Some people love them, some people hate them but regardless of how you feel they are definitely here to stay.
One of the biggest negatives for most dropper posts is the price, with many costing £180 – £300 which means that its a huge investment. If you've never used one of these posts before then this can be a huge step to take. That's why the Decathlon post is so impressive, costing just £30!
Decathlon Dropper Post Review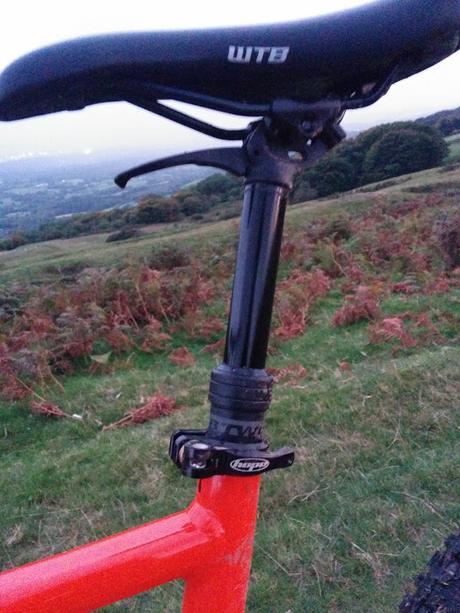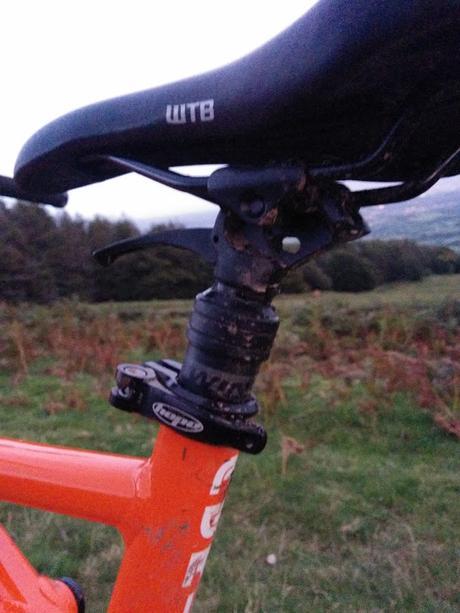 First things first, this post does not give you all of the benefits that other manufacturers offer. A quick example of this is:
It's only available in 31.6mm
It only has 100mm drop
There's no remote (although you could build your own remote if you're desperate)
All that out of the way and what do you have? A very cheap dropper, that comes with a 2 year warranty (yeah, wow!) and is only available in one size – you can either use it or buy something else! At just £30, if this post fits then it is well worth buying just to find out whether you really want a dropper or not.
So how is it? First things first, I was initially worried about the rodeo style level rather than a remote button. This seems to be a common worry about anyone looking to buy one – even though KS have several models that are very similar. After the first few rides I surprised myself by how much of a non-issue this is. In fact, I prefer the lever to the button I had on my Rockshox Reverb.
The trick is planning ahead – a bit like changing gears – if you see that the trail is descending or climbing then lower or raise the height in advance. A couple of rides in, this becomes second nature and has yet to have slowed me down on any section of the trail.
Performance
For the initial few uses the post was relatively stiff, coming up nicely but being a bit sticky going back down. After a few hours on the bike this was quickly eliminated and the post has performed smoothly ever since. I'm now coming up to over 200 miles with the post, using it in a wide range of weather and it's performed better than my Reverb!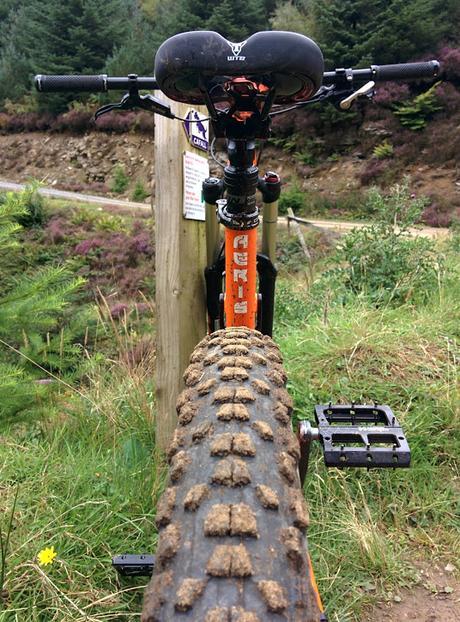 I have scratched the body of the post a fair bit getting it into my seat tube, despite greasing the post. I've put this down to largely being a relatively cheap finish and as the damage is only cosmetic I'm not that bothered – afterall, hardly any of the post is visible on my bike.
The lever does take some getting used to, but its long enough to easily find without it being so long that it catches on anything. I really like the fact that there's nothing else clogging up your cockpit and no extra cables running around the frame.
With no set point, you can stop the saddle anywhere within the 100mm range and it will stay exactly there. This is pretty handy as it's one less thing to think about and is really easy to control when adjusting height. You can adjust how quickly the saddle shoots back up with air pressure, but this will also make it stiffer to push back down – finding a happy medium was pretty easy though.
The seat clamp is very easy to use, being operated by one 5mm hex key. You simply unscrew it, slot in your saddle rails, adjust how far forward/back you want it, add whatever tilt you like, then screw it back in and you're done! It's very stable and has yet to shift despite some very heavy-arsed riding on my part.
Reliability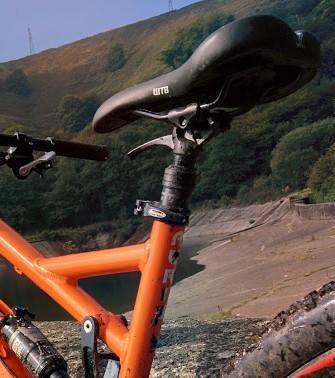 So far, I've had absolutely zero problems with this dropper post from BTWIN. Granted I've only covered 200 miles in just over a month, but its seen a lot of movement in that time. I've had it up, down, up, down, up, down… you get the picture… but at no point has it given a wobble, not returned all the way or felt juddered – that's actually more than I can say for my Reverb!
While I can't comment on long term reliability just yet, Decathlon's two year warranty is definitely reassuring and the price of buying a new post all together is cheaper than servicing most other models. There really isn't a lot to go wrong to be honest, no bleeding or cables to wear – just seals to maintain, so hopefully this will be the fit and forget dropper I'm hoping it will be!
Decathlon Dropper Post Overview
Generally, you can tell that this isn't the most expensive post on the market, but its a great price and works phenomenally well for what it is. So far I've had absolutely no problems with it except the scratching on the body when inserting into the seat tube.
I'll try to update after 6 months for a more thorough review, but overall I would definitely recommend this post for anyone looking for a cheap dropper post. If you're umming and ahhing about whether you'd actually use one or just want a cheap dropper for your second bike then this is a great option.
Ordering was quick and simple, I received my order the next working day! However, it can be tricky to get them in stock as they fly off the shelves – and for £30 it's not hard to see why.