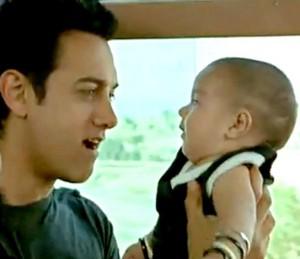 Bollywood's Perfectionist actor, Aamir Khan's five months old son Azad is all set to make his small screen debut in the promos of his forthcoming TV show Satyamev Jayate.
Azad Rao Khan, Aamir's son from his director wife Kiran Rao is barely five months old, but that didn't stop him from facing the camera for one of the promos of his father's upcoming chat show Satyamev Jayate. In an interview, Aamir revealed that his five month old son Azad features in one of the promos of his forthcoming TV show that were shot at his Bandra home. However, it has been decided to keep the footage strictly for family viewing.
Kiran was against the shooting at the family home, but Aamir went ahead with the shoot. The 47 year old actor said: "Half the time I shot the campaign, Azad was in my lap and once when Kiran wasn't around, we even shot a promo featuring Azad. At first, I told her that we shot a promo with him and it looked very good. Then, I told her that I was kidding and we wouldn't use it."
While talking about Azad, daddy dear's eyes light up and says: "Azad is a happy baby with good temperament and an amazing smile."
We wish Aamir Khan all the best for his show that is to be aired in the month of May and waiting for an opportunity to see junior khan.