Just when we thought it was safe, Death Grips decided to unleash their latest fury. Once again, the rap/rock magnets of controversy have circumvented the traditional album release process, announcing via Facebook that Government Plates was available for free download late yesterday evening. Immediately, the covers flew off, the computers flipped open, and our collective minds were totally blown. They may fuck with their fans from time to time– this year has been ripe with cancelled performances and bizarre antics– but it's never surprising when, in the end, Death Grips deliver exactly what we want.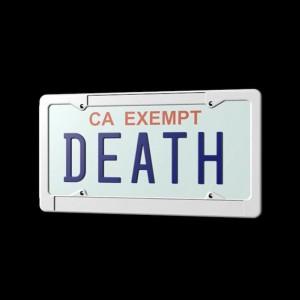 At roughly the length of a novella, the title of Government Plates' opening track is a quirky mouthful: "You think he loves you for your money but I know what he really loves you for it's your brand new leopard skin pillbox hat." Once you catch your breath, though, you realize the album as a whole is quick, concise, and brilliant in both plan and execution. On Government Plates, the teeth-grinding antagonism of 2012's No Love Deep Web has cooled slightly; this time, the vibe is more slick and assertive than straight-up aggressive. Between instrumental breaks, Zach Hill interrupts by demanding, "Come on, come the fuck apart in here," but his wish is never fully granted. From boisterous synth freak-outs to dirty, floor-shaking beats, Government Plates is never static, but runs smoothly from start to finish.
Still, the band's fall-back has always been angry lyricism, which MC Ride never fails to serve up in true style ("fuck your idols, suck my dick," he barks over tinkering xylophone sounds on "Two Heavens"). Ride often sounds possessed as he raps over screams, creaks, and scratches, but he's also drowning in fuzz on "Anne Bonny" and rolling through bumping, bouncing 90s era dance beats on "This Is Violence Now." "Im Overflow" spawns a dubstep vibe without sounding trite, because if anyone can breathe life into a dying genre, it's Death Grips, the dudes that have kept us on our toes for years, wondering what sort of weird shit they'll be dreaming up next. Not even on "Birds," which we've heard before, does Government Plates ever feel repetitive or stale; the grimy headbanger is warped and wonderful as ever, lethargic and heavy yet light as a feather. Hill and Ride zoom forward on Government Plates, hurtling towards the unknown at full speed.
To say that Death Grips left fans pissed after their Lollapalooza debacle is an understatement; when their equipment was destroyed, some wondered if their career was, too. Government Plates puts a swift end to these criticisms. In these days of endless label drama and Reflektors- type publicity stunts, Death Grips handing down their new album with completely no frills is a refreshing and honest move. The fact that Government Plates is their best, most exciting work yet? That's just bonus.

4.5 / 5 bars