Arrow was quite good. So, it birthed a lighter, possibly superior spin-off show, The Flash. Good for them. That's how it's supposed to go.
Agents of SHIELD is apparently still too big to fail for Marvel and ABC, and luckily once The Winter Soldier untied their hands the show got a lot better down the home stretch of the first season and throughout the second season. ABC's head honcho had been wanting to experiment with "bridge shows" which can be aired at mid-season during another show's winter hiatus to save the network from terrible ratings for reruns. On Marvel's side of things, fans have had a thing for Hayley Atwell's Peggy Carter the moment she showed up on screen in Captain America: The First Avenger. Marvel even made a short movie about Carter's post-Captain America life, almost like a backdoor pilot. So, they tried her out in Agent Carter, a short series somewhat connected to Agents of SHIELD, using it as ABC's test case for a bridge show. Good for them. Way to think outside the box, and although the ratings weren't amazing they delivered a high quality show.
Now, Warner Bros. Television and the CW want to cherrypick both Arrow and The Flash for a mutual spin-off show starring some of their notable supporting players, Brandon Routh's Ray Palmer and Caity Lotz's Sara Lance from Arrow and Wentworth Miller's Captain Cold, Dominic Purcell's Heatwave, and Victor Garber's Dr. Stein from The Flash and team them up with a bunch of new-to-live-action DC characters?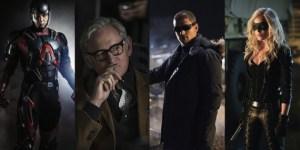 Now, according to Deadline ABC and Marvel want to take two of the biggest reasons that
Agents of SHIELD
has been so vastly improved this season, Adrianne Palicki's badass Barbara "Bobbi" Morse aka Mockingbird and Nick Blood*as her endearingly snippy and charmingly British ex-husband Lance Hunter and
put them in their own Mr. and Mrs. Smith-esque spin-off
?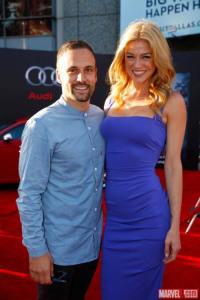 Wow, they do a good job on the show of hiding their height disparity
On top of that, if rumors are to be believed ABC and Marvel are working with American Crime's John Riddley to develop a bridge-show about the Kamala Khan version of Ms. Marvel (aka, the first Muslim superhero), intended to air ala Agent Carter during the winter hiatus of Adrianne Palicki and Nick Blood's show? Even if that rumor is crap, it does seem certain that Riddley is definitely working with ABC and Marvel on something, and that "something" is not the Mockingbird/Nick Blood Agents of SHIELD spin-off which is actually being developed by two of SHIELD's writers.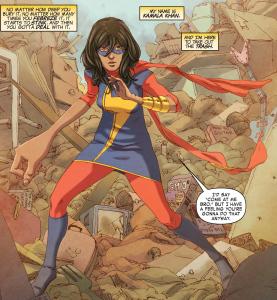 Um, wouldn't
Arrow
and
Flash
be better served working as a pair with occasional cross-overs? Isn't it a little too soon for another spin-off? Aren't you going to have to bend over backwards in credibility-breaking ways to explain how Caity Lotz is back even though her character was dead, dead, dead the last time we saw her (quietly chant: Lazarus Pit, Lazarus Pit, Lazarus Pit)? Is it really the best idea in the world to take away Captain Cold, the leader of The Flash's Rogues, and put him into a different TV show after just one season?  And how in the world will they fit with a time traveler, Rip Hunter, played by Rory from
Doctor Who
(Arthur Darville) and Hawkgirl, a reincarnation of some ancient entity or person?
And now that Agents of SHIELD has come into its own largely because of how the impeccably picked new actors rounded out the ensemble cast for the second season why would you then mess with that by taking two of those new actors away?
As for Ms. Marvel…actually, I have no problem with that. Sure, if you know your Marvel canon the idea of a Kamala Khan Ms. Marvel TV show arriving a couple of years before the Carol Danvers Captain Marvel movie is quite confusing since they would be arriving in the reverse order of how it happened in the comics. The REDDIT-generated rumor argues, "Well apparently the current plan is to slow-burn her origin into actually being Ms. Marvel over time a la Daredevil (or at least in terms of her taking that name, I don't know whether or not she'll have her costume from the start or wait it out). The series will focus more on her fascination with superheroes in general, while balancing issues of religion, racism and Islamaphobia along with her crime fighting." I like the idea for the same reason I liked Agent Carter on concept alone: it's a female-fronted project that does not detract but instead adds additional shading to the show from which it would originate. In other word, a mini-series or bridge show just does not seem like it would be stretching a cinematic universe too thin in the way that a full-fledged spin-off does.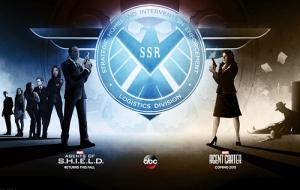 This is the part where I acknowledge the reality of the situation which is that not a single one of the proposed spin-offs I've discussed has actually been greenlit yet, and in the case of Ms. Marvel it may not even be true, simply the product of the internet's hive-mind rumor mill. Most shows never make it out of development, and even those that get a pilot have a minimal chance of getting picked up. After all, relatively recent TV history saw Aquaman (as a
Smallville
spin-off) and Wonder Woman (as a David E. Kelley project) pilots fail to make it to TV. Although the reports are that both the
Arrow/Flash
spin-off and straight
SHIELD
spin-off would go straight-to-series.
This could also be the part where I shake my fist in the air in righteous indignation at Hollywood's lack of creativity and use phrases like "comic book saturation" and "Blah, blah, blah, too many spin-offs, remakes, reboots, blah, blah, blah."
Yeah, that's not really where I'm coming from here. I am looking at the possibility of an Arrow/Flash spin-off and two Agents of SHIELD spin-offs and stepping back to wonder if the center will be able to hold. Or, to put it another way, I like Arrow, The Flash and Agents of SHIELD. I'm worried that the planned spin-offs will weaken those shows, not simply widen their respective universes. I don't want to see Mockingbird and her ex out on their own; I want to see them bickering in front of the rest of the SHIELD team. I don't want to see Captain Cold mixed in with a completely throw-a-dart-at-the-wall collection of other heroes and anti-heroes; I want to see him serve as The Flash's noble adversary. I like the idea of Ms. Marvel, although I'd really rather get a second season of Agent Carter. But I mostly want the people who make these shows to not overextend themselves and simply focus on making sure that what they have remains strong (or, in the case of Arrow, rebounds from an extended slump). On the opposite end, I should have more of an open mind, especially since I am one of those fools who preached doom and gloom about Guardians of the Galaxy and just couldn't quite picture Grant Gustin as Barry Allen.  And maybe losing Mockingbird and Nick Blood would allow Agents of SHIELD to just straight up become the Inhumans TV show it kind of wants to.  Plus, it is ridiculous to riled up this early on in the development process. However, not to go all Jeff Goldblum on you, but I get that you absolutely can make more spin-offs, but shouldn't you stop to ask yourself if you really should?
*Am I the only one who didn't actually know Nick Blood's name until now? I assumed "Nick Blood" was some comic book character I'd never heard of before when the name popped up in the headlines about the Agents of SHIELD spin-off.
**Just so it's clear, none of what I've said is meant to apply to what Marvel has going on with Netflix and Daredevil, Jessica Jones, Luke Cage, and Iron Fist.