We're home from our amazing, amazing trip to Northern California.  (Did I say it was amazing yet?)  As my friend Lauryn said while describing a recent trip she took, it was like going to a place where there's so much hype, and you know it can't possibly be as good as you hear, but then you get there… and it's better.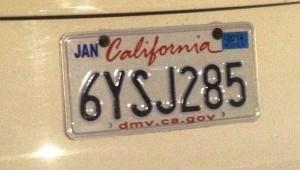 We stayed with my friend Lisa in the Mission District, a really fun, interesting area with good coffee and a bulldog on every block.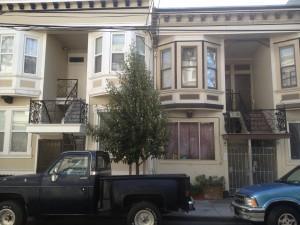 Lisa suggested we try The Pork Store for breakfast, for it's lengthy vegetarian menu and $5 coffee + mimosa special.  We didn't try the drinks, but we did order way too much food!  Their Eggs In A Veggie Nest (2 eggs nestled in a bed of hash browns and veggies + biscuits) was so good, we had to go back again for it.  B's a Southern boy, and he doesn't get good biscuits often!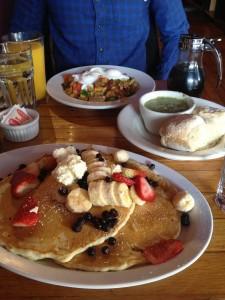 We stopped at Four Barrel for coffee, at the recommendation of a friend of a friend of a friend we met in a bar in Astoria before we left.  The Americanos were perfect, and the space was so cheery!  Light and open, with dogs running around.  San Francisco apparently allows pets indoors, and it was fun to see French Bulldogs and Golden Retriever puppies in front of the counter.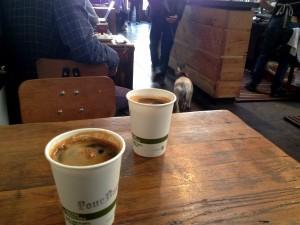 We took our coffee and set out to explore.  B and I have similar travel styles, and think walking is one of the best ways to get to know a city.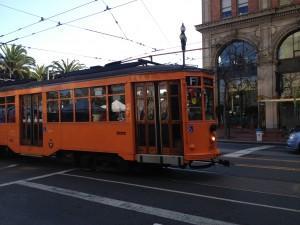 We walked up to the Ferry Building, which is a lot like New York's Chelsea Market.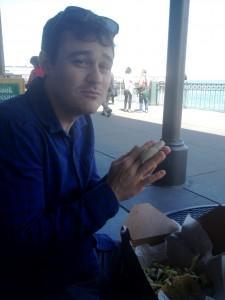 Except in New York, you can't eat your fish tacos on the boardwalk, overlooking the bay bridge!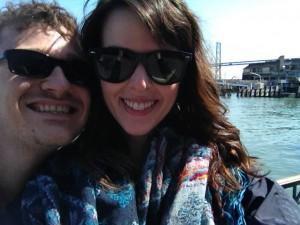 We met up with Lisa at Fisherman's Wharf, and took a ferry to Alcatraz, the maximum security prison that was home to some of our country's most famous inmates.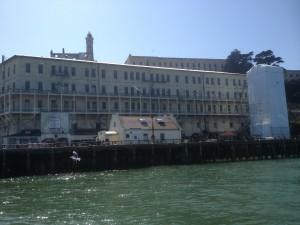 Being in the prison (which closed in 1963) sparked some thoughts on what I may want to use my MSW for…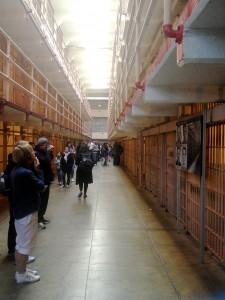 The island was actually quite beautiful, and had an amazing view of San Francisco and the Bay Bridge.  It just made it all the harder to stay locked inside, I suppose.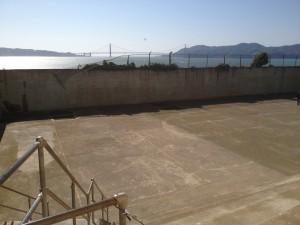 On our way out on Saturday morning, we stopped at Tartine Bakery, which was pretty much THE place I had to try in San Francisco.  I've been reading about their breads for years!  Their Morning Bun was to die for.  It's kind of a cross between a brioche and a croissant, and theirs was lightly scented with orange and a dusting of flakey sugar.  (Apparently morning buns are kind of a big deal in California… we sampled three on our trip!  Basque Cafe's and Model Bakery's were also mighty fine.)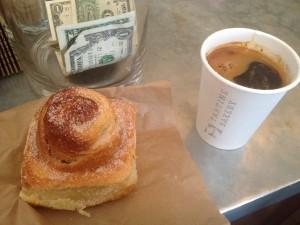 We headed back to the airport to pick up the rental car.  (While parking can be tough in SF, it definitely would have made more sense to have rented the car the whole time.  Public transportation is pretty expensive!)  We drove over the Golden Gate Bridge, breathtaking sights on either side of us.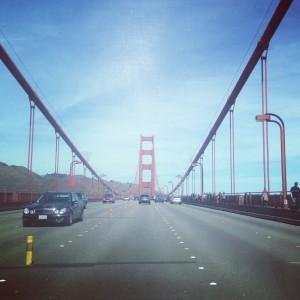 On to Muir Woods!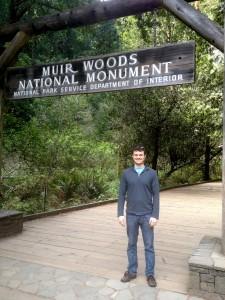 Guys… this place is insane.  It's like an entire city made of enormous, thousands-of-years-old redwood trees.  Walking around it is a truly magical experience, and one of the highest points of our trip (and there were so many!).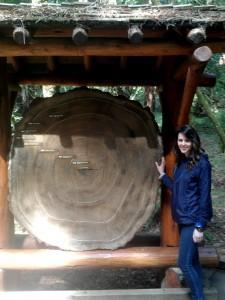 We settled into our hotel in Sonoma, the Sonoma Creek Inn, and quickly realized we were ravenous.  Fortunately for us, it happened to be Sonoma Valley Restaurant Week!  We headed to The Big 3, where we enjoyed 3 courses/ $19 and a flight of delicious red wine for $13.  Scrumptious!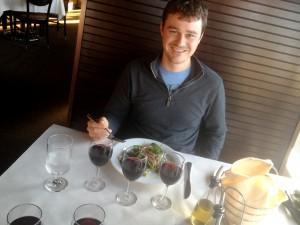 Before we'd left for our trip, I'd researched menus, free/ inexpensive wine tastings (those add up really fast) and things to do.  Unfortunately I'm kind of old school, and left my hand-written list on my desk at home!  So we ended up putting together a list in about 30 minutes, and it worked out pretty well.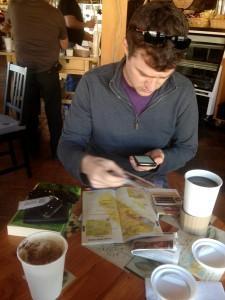 We sought out small, family-own vineyards that didn't have a corporate vibe.  (This is what Northern California looks like everywhere.  Insane!)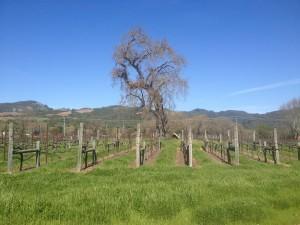 My two favorites were Homewood and Robledo, but we also loved Little and Wellington.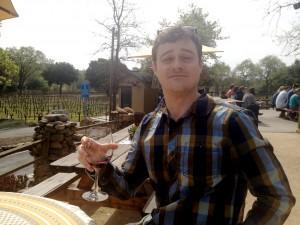 Honestly, with 350+ vineyards in the county, it was hard to go wrong!  We spent about 45 minutes at each winery, and met a lot of really interesting people.  The whole experience was so much fun.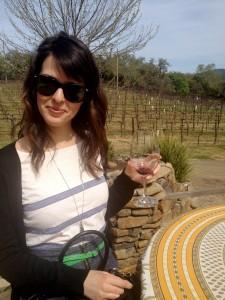 We stayed in Sonoma for two nights and Napa for one, and actually had a bit of a hard time finding vegetarian food in wine country.  There were a few items that were loaded with eggs and cheese- which we ate- but food that didn't hit you in the gut was scarce.  We did track down The Sunflower Center, which was bizarrely located in a building within a corporate park in Petaluma.  It was an oasis of raw + vegan food; we went back twice.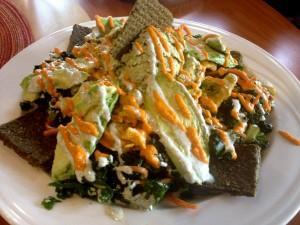 On our last night in wine country, we were in Napa, and decided to go out to a nice "California-style" dinner.  (This kind of means "Brooklyn-" or "East Village-style" in NYC, aka farm-to-table food with lots of fresh and local ingredients.)  We chose Grace's Table, a lovely, light restaurant with a great wine list (obviously) and an interesting menu. We weren't all that hungry (spending the day wine and pastry-tasting will do that to you!) so we split three small plates:  iron skillet cornbread with lavender honey butter + mâche lettuce (my favorite); tuna niçoise with big eye tuna, crispy egg, olive tapenade, potatoes, broccoli dececco + frisée lettuce; and a side of roasted brussels sprouts with pearl onions + crispy sage.  This was our favorite meal of the trip.  I think one of the things we liked most about it was the feel of the place: just… wholly unpretentious.  Dining in New York can be overwhelming sometimes with long waits and no reservations, and it often feels as if you are doing the restaurant a favor by dining with them.  (And I say this as a years-long veteran of the industry.)  In California we didn't feel this at all; we felt valued and appreciated, and it really enhanced our experience.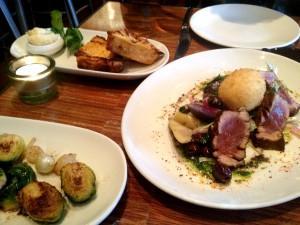 If you can't yet tell from my tone: WE LOVED CALIFORNIA.  I can't say it enough!  This trip was wonderful in so many ways- seeing old and new friends, exploring a new part of the country, enjoying the outdoors, spending time with B- and our memories are just what I need to get through midterms for the next two weeks.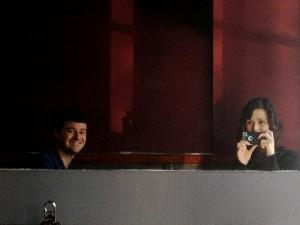 Hope to see you soon, San Francisco!