Constant evolution and competitive edge.
My phone asked me to upgrade several apps today. It often does, and I dutifully did so. If you want to avoid OMG territory when people borrow your phone, that's what you do.
Today's installations likely ironed out a few earlier bugs. Some added a new capability. Others look a bit different but most look much the same.
When it comes to consumer trends, 'up' is the new black. We are encouraged to constantly upgrade. We are upsized, often literally, and we are regularly upsold.
Product life is shorter now.
It's not just apps. All product cycles are more faddish. Services once considered core products are trumped by offerings that are simply cheaper, more convenient to purchase and easier to use.
Perfection can be less important in new product launches. More often it's getting it roughly right and ironing out the bugs with your equivalent of version 2.0. The commercial attraction of the upgrade is to keep you in touch with your increasingly fickle customers and, possibly, use that new version to leverage more sales off your early-mover momentum.
Speed brings challenges.
One is simply time. You will be forced to make decisions before you are entirely ready. If you cut short the stress test, you risk curtailing a process that might otherwise lead to a more successful launch. Worse still, you may miss an alternative strategy that is superior to the one you first thought of.
Second, you curb your field of vision. You narrow the parameters of debate and stop people raising issues out of left field. You discourage creativity at a time when it's needed most.
Lastly there's the myopic downside. You fall in love with an idea that the market doesn't. It might be completely clear in your mind how it will unfold, and how popular it will be with your customer base, but you fail to see the problems that prevent people from embracing it.
How to keep 'Up'?
Shift your mind-set. Rather than respond to change, initiate it. Several things will help:
Move from static product development to rolling innovation. If change has become a constant in your business,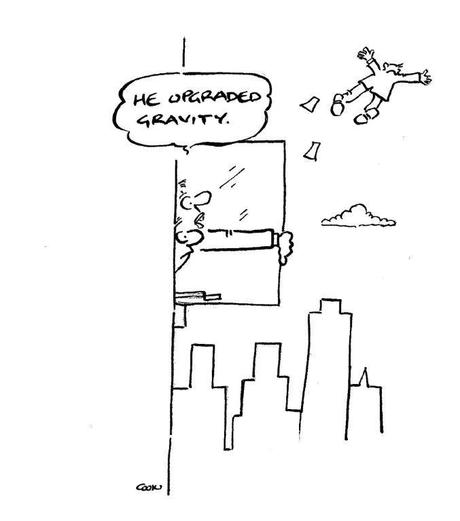 then constantly change. Make that your key driver. Celebrate a new product launch but immediately have your 'change team' or 'think tank' start working on how to improve it or replace it.

People that team with a diverse input. Get plenty of thinking which is different to yours. If you don't have a big team, use friends or associates in other industries. Just broaden your vision.

Focus on what sets you apart. If you are positioned as the simplest to use, don't start making it complicated. Instead make it even easier use. Ditto if you are the most convenient, cheapest, best, most reliable or most expensive. Keep doing better what you already do best.

Move from short-term thinking to long-term. Incorporate the idea of rolling product development. Take a tip from Apple. Don't release a version that has every feature from day one. Release it in phases that you know will work. Let the marketplace see that you are constantly improving your offering. Let it be your brand. It's what you do.