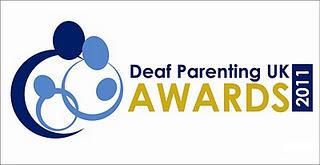 Forgive me for my silence lately; September has been pretty full-on lately, what with preparations for the birth next month, a recent personal bereavement and an increase in Isobel's PACE sessions to three times a week.
But while I crack on with my latest post - which I hope to upload shortly - I'm proud to announce that I've been nominated for the
Deaf Parenting UK Awards 2011
. Launched to mark
the charity
's tenth anniversary, the Awards aim to recognize "the dedication and determination of Deaf parents and the professionals working with them from all walks of life, for their commitment to improving quality of life for all Deaf parents" according to their press release.
Apparently, I've been shortlisted on the basis of this blog in two categories: Positive Deaf Parent, and Campaigner of Deaf Parents. For that, I'd like to extend my thanks to those who put my name forward for nomination, and to the judging panel, who must have thought long and hard before making their selection.
I'll be back in touch about this very soon with photos and press coverage of the event.