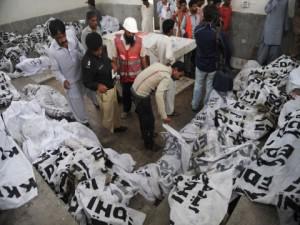 Deadly fire that erupted in a garments factory in Karachi killed more than 300 people. A garments factory in Industrial Hub of Karachi caught fire on Tuesday evening and is still smoldering. Casualties are expected to rise as rescue workers scrutinize the burnt peapod of the factory. It is worst Industrial disaster country has witnessed in decades. Ill-fated factory was producing under garment with total 1500 employees.
According to details small blaze broke out in a four story building around 6:30 PM. Lack of firefighting skills and equipment allowed minor flame to conflagrate at a greater speed and quickly get out of control. Fire tenders classified this as a category 3 fire disaster. Category three is most deadly and prompt for deployment of all available resources.
There was complete panic in the building as no exit existed. Building was like a match box with all of its windows barred. Only main gate of the building was used for both entry and exit. This means that no one has option to escape deadly fire. Those who managed to smash window panes were forced to jump from a considerable height.
There are at least fifty more people trapped inside basement and all are believed dead. This means that deadly fire has claimed more than 350 lives and it could end up near 500.
It was second incident of deadly fire in factories same day. Earlier a shoe factory in Lahore was gutted due to faulty electricity generator. Lahore factory fire claimed 25 lives including factory owner and his son. Both the deadly fire incidents reflect negligence by Government departments to ensure implementation of Law. Regulations require all factories in the country to have properly identifiable emergency exits, arrange emergency drills and installation of early warning system.
Sindh Government announced to investigate the owners over deadly fire incident. At the same time Sindh High Court also too suo moto notice of the incident and announced a judicial probe.