Hi everyone!!
I have a review of Dazzle Dry to share with you today. Dazzle Dry is 100% vegan and promises that your polish will be completely dry in 5 minutes.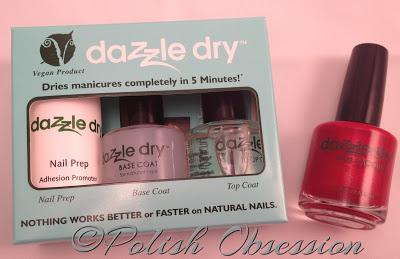 The set comes with a Nail Prep, Base Coat and Top Coat.  The nail prep should be used with a cotton ball to clean the nail prior to applying the base coat.  After a generous layer of base coat, you apply your polish and then the Dazzle Dry top coat.
I've tried this system for a bit over a week now and it works really well.  It dries to a beautiful shine and so quickly!  I did notice a few bubbles on my nails, but that only happened once or twice.  I like that this top coat doesn't have a strong smell and is totally vegan.  I also love that I experienced no shrinking with this top coat, not once!
Dazzle Dry also sent me one of their nail colors called Happy Hour.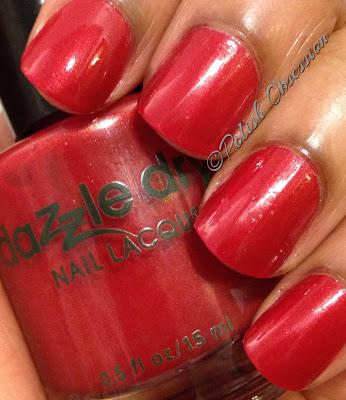 Happy Hour is from their Winter 2012 Night Life collection.  It's a pretty red shimmer that looks way better in person.  My only problem was with the formula.  It was really thin and slightly runny, so I had a lot of flooding at the cuticle which made it difficult to clean up.  Also, though it was opaque in two coats, because it was so thin, I could see all the flaws of my nails.  I didn't like that very much.  It's still a really nice shade of red though.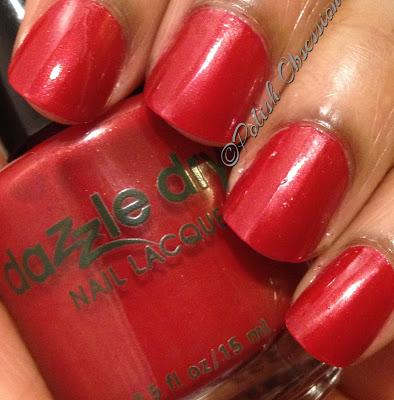 Artificial Light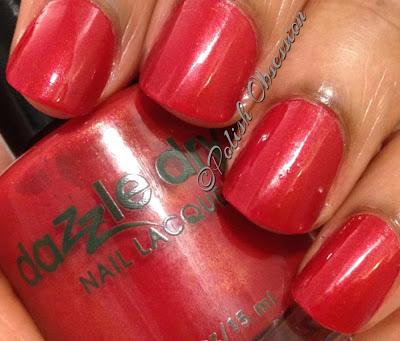 Artificial Light
You can see that there were some bubbles on my ring finger from the top coat.
I really love this top coat and I think I'll be using it a lot more in the future.  I just wish the nail polish had a better formula.
Have you tried Dazzle Dry Top Coat before?  What's your go to top coat?
Dazzle Dry polishes can be purchased online at
www.dazzledry.com
.  Their nail lacquers are $9 per bottle.  The top coat on its own is $12.50.
**Products sent for honest review**