It's been busy busy on the blog this week!
I've been looking into technology in weddings! I found this picture on Twitter: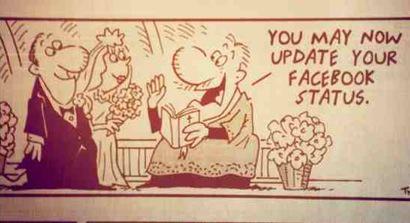 I'm a bit of a Facebook addict and this is so me! My friends have warned me not to update my Facebook status at the altar!
But it got me thinking about how technology can enhance a wedding, especially if you have guests who can't make the wedding but still want to be involved. Or, if you're in Japan or America, you can even be married by a robot!
My recent blog post was an introduction to technology, more coming later.
I've also been looking at the entertainment for weddings. DJ or band is the focus. There are huge benefits of having a DJ and a band, so how does a girl choose? I've tried to look into all the positives and negatives for both to give a well rounded opinion of both. I've also discussed what I chose and why.
And finally, the advice every bride needs: once you've booked, don't look! I have got to take that advice myself! The worst thing a bride can do is check out another dress or discover a cheaper florist after you've paid the deposit. The best thing is just to stop looking, and close your ears to any other brides with different suppliers.
My next blog posts are going to focus around wedding photos. A friend of mine just got married at the same venue as I'm going to have and her professional wedding pictures have inspired me to blog! (She looked completely amazing in all the pictures!)
My h2b is a fantastic photographer so I'm going to use a lot of his photos in my blog posts (and also they don't have copyright, or I share the copyright, or something similar).
As far as my own wedding goes, what we've done this week is buy the travel insurance for the honeymoon. I am so completely excited about the honeymoon! I'm excited about the dress and the wedding, and marrying my amazing h2b… I'm so excited about all of it! I've been excited since October 2009 when we got engaged and I will probably be excited for the next 287 days!