We have been busy since my last post! The bridesmaid dresses have been booked and mostly paid for (except for adjustments). All my bridesmaids liked Alfred Angelo 7076, and we are having it in lavender.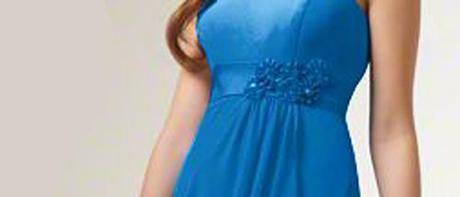 And yesterday, I got the team round, provided many cups of tea and we finished some of the twiddly wedding jobs!
Dad, with his lovely handwriting, was on invitation writing duty. My little brother John was making double happiness confetti and I was making the table place name tabs.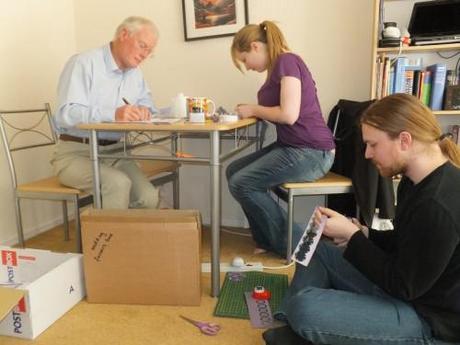 Me, Dad and little brother hard at work on wedding things!
We wanted some double happiness confetti just to have an element of Chinese culture in our wedding. My h2b is Chinese so I thought it would be nice. I couldn't find any double happiness confetti online for love nor money so I decided we should make our own!

I was really pleased with how the place cards turned out. I don't want to reveal too much but here's a little glimpse of my place card. I bought the silver shimmer place cards from Amazon, and I totally love them, they shine subtly in the light. I found some silver lined purple ribbon in Hobby Craft and bought the sparkly flowers from Hobby Craft too.
And also this week, I've been to three weddings! The first was a friend from university, a beautifully traditional wedding with a gorgeous parish church and stunning hotel reception venue. Sophie (the bride) opted for a very fun photo booth idea (which I'm thinking of copying) and some very yummy – and home made!! – cake pops!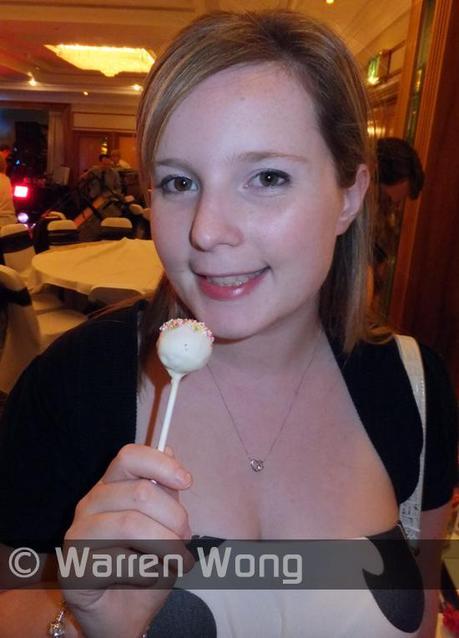 Yum! Enjoying a cake pop at my friend's wedding!
The next wedding was the following Friday, wonderfully unique with readings from The Hobbit and a reception in a lovely hotel!
And finally, another wedding on Saturday evening.  A lively wedding reception after a wedding abroad. The bride looked stunning in her dress and the groom was very smart in a seasonal beige suit.
I love going to weddings! And mine is not far away!