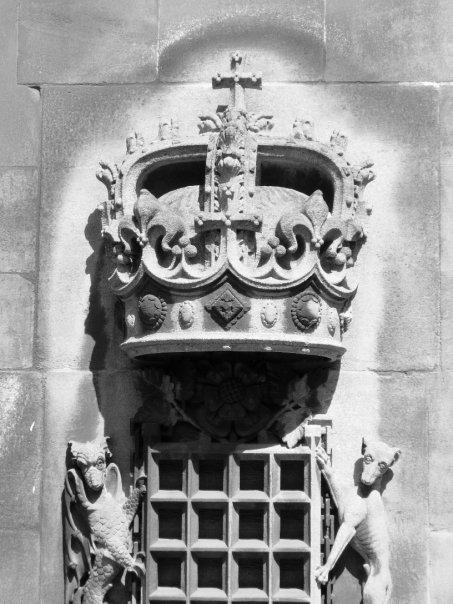 London, England was the very first destination that I visited overseas.  Three and a half years later and dozens of countries visited, London is still one of my favorites.  With limited time in the city, I decided to take a day trip to visit Stonehenge, one of the many things to do in London that I had to cram in such a small period of time.  For the itinerary to work out to be within my budget, I had to book a package tour that also visited Salisbury Cathedral and Windsor Castle, and turned out to be a fantastic decision.
Although my primary reason for heading out for the day was to visit Stonehenge, the sight ended up being the last destination out of all the places I checked out.   In not knowing much about the other two destinations I went to, the day turned out to be quite the experience!
Windsor Castle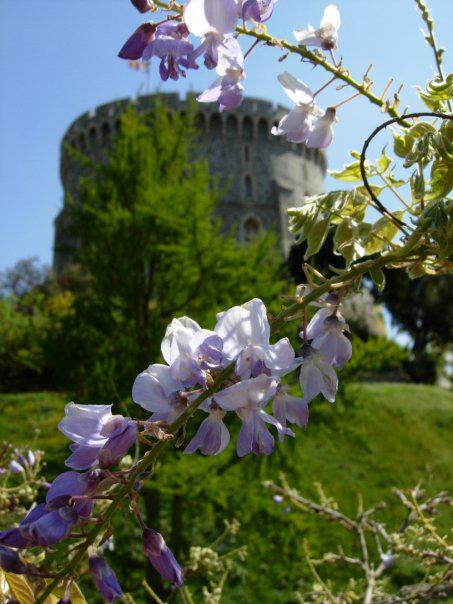 Windsor Castle was the first destination of the day, and also the most expansive.  Between the surrounding city that offers every food in London imaginable and the castle grounds, there is a lot of walking to be done.  As the castle grounds itself are spread out over a wider area than most castles, the ability to explore is significant.
The main part of the castle is open for tours, however all visitors should keep in mind that Windsor is an official residence of the royal family and the availability of tours may change. The Queen has her official residence period at Windsor in March - April for Easter Court, as well as a week in June and when hosting foreign leaders.  If the Queen is in residence, the Royal Standard flag will be flying high overhead.
While looking up, try and catch a low flying plane as Windsor Castle is located incredibly close to Heathrow Airport, making for a great photo op!
Salisbury Cathedral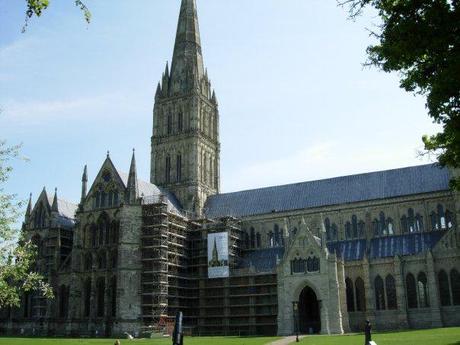 Salisbury Cathedral had one of the biggest surprises of the entire tour as the year I visited marked the 750th anniversary of the cathedral.  To celebrate this historic moment, a massive restoration project was underway that included cleaning every single brick on the outside of the cathedral.  The time of my visit was especially interesting as they were only halfway finished, resulting in one half of the cathedral being quite pristine while the other showing its age with a thick layer of black dirt covering the surface. 
Perhaps the biggest draw to Salisbury Cathedral is not that it is one of England's most beautiful churches, or that it has the largest spire in the country, but for the fact that one of the four original copies of the Magna Carta is housed there.   The experience all comes together when looking at the small document when you realize that it was signed at the very time the church was being built several hundred years ago.
Stonehenge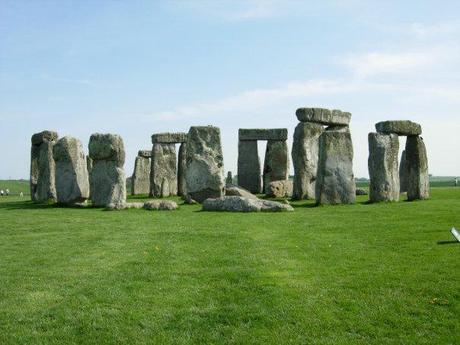 The main draw for my day trip from London was the ancient site of Stonehenge.  Where the other destinations have been in existence for less than 1,000 years, Stonehenge already had already been around for 3,000 years! 
Many travelers have found fault with Stonehenge as being a rather small complex for the main ruins everyone flocks to see.   While this is true, the government has purchased a significant amount of land around the stones to ensure that modernization does not occur nearby.  For now all that is in the way of the stones is a small road and carefully hidden visitors center several hundred yards away.
During the day, visitors to Stonehenge can only walk in the circular path around the stones which ranges in proximity from a few feet to several hundred, offering new perspective on the stones.   Those wanting to get up close and personal with this attraction must pay an extra fee for one of the sunset sessions with the stones when the barricades are removed, and visitors can walk freely.  
Overall, my day trip out to see Salisbury, Windsor, and Stonehenge was an action packed day that helped contribute to why London is one of my favorite cities in the world.  In only having 3 days to explore the region, I felt that there was a significant amount of destinations I missed, especially on the day trip front.  But knowing how much there is to do, my next trip to the city will be longer and will hit my new wish-list destination for the region: Glastonbury.