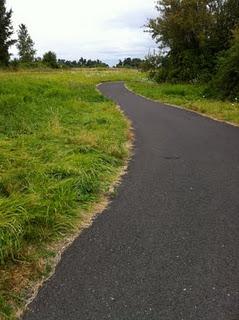 This morning we were supposed to meet up for a walk with someone who canceled at the last minute, but we took advantage(we were already there) and enjoyed a walk with just me, and Mr. Ball.  Luckily I had my camera;aka my phone, to capture a few shots of one of our favorite trails!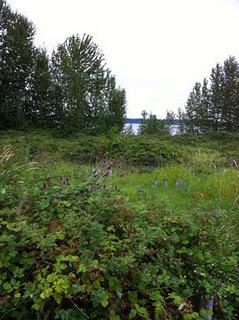 It was so still and quiet...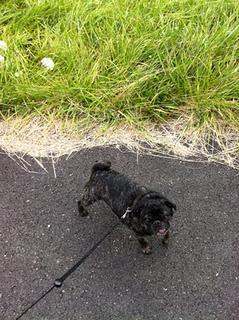 Look at that face!  Meatball is the best walking buddy a girl could ask for!
I am not feeling very well today(day 2 of my menstrual cycle) I hate to miss yoga 2 times this week(once for our anniversary, and tonight) but I am going to honor how I feel, and look forward to starting the day with yoga tomorrow!
Meatball had a "trial run" today at doggie daycare and I think he is a fan... Charlie(the dog whisperer here in Vancouver, WA) said that Meatball really enjoys the kiddy pools!  Who knew?   I will bring him once a week for the next two weeks to keep him acclimated, and then when I return to teaching in September, he will go twice a week when I am working full days.  It's good for him, and it's the price I'll pay for peace of mind that he is healthy, active, and attended to while I am gone.
Do you take your dogs to daycare?  Why did you decide to?  Has it made a difference in you, and your pup's lives?