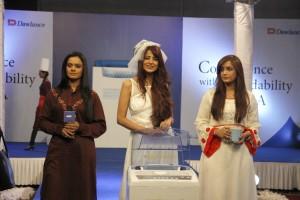 Karachi – 1st February, 2013: Dawlance, the no. 1 home appliances brand of Pakistan recently launched a new Automatic Washing Machine (Model # 1100-A) to add to its already impressive range of washing machine models. This latest addition has loads of technically advance features i.e. Hassle Free Wash, One Touch Operation, Power Failure Resumption, Delay Start-up, Child Safety Lock and Tub Clean Option which will revolutionize the way clothes are being washed in households today.
Speaking at the launch Mr. Hasan Jamil, head of sales, Dawlance said: "Dawlance understands that people now expect much more from a washing machine than just washing of clothes. A hectic lifestyle leads to a continuous need for comfort which is in part provided by Dawlance's innovative home appliances like the 1100-A automatic washing machine. The thought process behind the development was providing the busy women of today with a solution to ease the hassle behind the daily washing of clothes. No longer do women need to take out time from their hectic lives to wash their household's clothes. Everything can be done with a touch of a button giving them enough free time to tend to other chores."
Speaking at the launch, Ms. Naushin Shahid, Category Manager, Dawlance added, "Dawlance 1100-Automatic washing machine is a breakthrough in washing technology.  The Delay Start-up feature makes washing possible anytime during a day. Just set a certain time and the machine will automatically wash the clothes without a need for supervision. The Power Failure Resumption feature allows the washing machine to carry on with the washing without restart in case of a power failure. Besides this it also has the regular One Touch Operations, Customized wash feature, Hassle Free Wash, Tub Clean Option and a Child Safety Lock. Households can avail the innovative solutions provided by the Dawlance automatic washing machine 1100-A at the same price as some of the semi automatic washing machines available in market today."
With the introduction of the best in technology, Dawlance has proved yet again that it is truly the most reliable and innovative home appliance brand in Pakistan that continues to enrich the trust of Pakistani consumers by offering them the most relevant & healthy solutions that are stylish, practical and easy on the pocket.