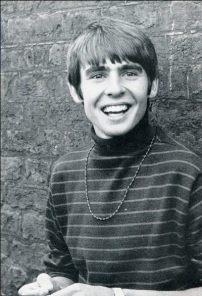 We don't have a leap year this time around, but last year we did and that's when we lost a beloved Monkee, Davy Jones. Today makes one year since he passed away and I wanted to pay special tribute.
Above is a clip from his guest appearance on The Brady Bunch in the episode, "Getting Davy Jones" from season 3 (1971). He is recording a song, Girl, from his second studio album, Davy Jones. Marcia is trying to get him to sing at her school dance but has trouble getting close enough to talk to him.
This weekend there is a Monkees Convention, in memory of Davy, at the Sheraton in East Rutherford, New Jersey. Micky Dolenz and Peter Tork will be in attendance along with a few guest stars who were on the Monkees show. Some actors from The Brady Bunch will also be there. To see the full list, click HERE.
We'll never forget you Davy….
12.30.45 – 2.29.12