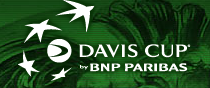 It's hotting up in the Davis Cup with some great ties for the quarterfinals. Most of the top players are playing except Nadal who was not announced for the Spanish team, but I guess there is only so much tennis he can play.
Post Wimbledon, there could be some opportunities to take advantage of some tired legs however, so we could see a couple of upsets.
Let's break it down:
Sweden vs. Serbia
Prediction: Once a tennis powerhouse, Sweden are fighting to stay in the world group as Soderling is a 1-man army right now. Pressure on him and pressure on their doubles team to keep them alive in the tie and world group. Serbia to win 3-2 on account of poor form and fitness from Troicki and Tipsarevic with Djokovic possibly feeling some tiredness after Wimbledon.
Watch out for: A key doubles match
Argentina vs. Kazakhstan
Prediction: Nalbandian and co. play the Kazakhs right in their wheel house, on clay and in Argentina. With Del Potro slated to play as well, they will be too hot to handle and will take it 4-1.
Watch out for: Del Potro's return to Davis Cup play
USA vs. Spain
Prediction: The tie of the round. Roddick heads back home to Austin with plenty to prove, now playing 2nd fiddle to Mardy Fish. A must win for him and the US, but a good time to have the savvy Jim Courier in their corner and Nadal not playing. The Bryan brothers could decide this one in a 3-2 US win on a super fast indoor court.
Watch out for: A fired up homeboy Andy Roddick
Germany vs. France
Prediction: Phillips Petzschner and Kohlschreiber are in good form so this will be close playing in Germany. So too is the whole French side though and I think the quality will be too much for the Germans. Monfils as ever is the wildcard but with Llodra in the doubles they should close the deal. France to win 3-2
Watch out for: Bag of tricks Florian Mayer, ready to spoil any party he's invited to.
Other notable ties:
Portugal vs. Switzerland
Prediction: Indoors in Switzerland should be a cakewalk for the Swiss, so 5-0.
Watch out for: Federer back in action for the Swiss and Challenger tour here Joao Sousa.
Italy vs. Slovenia
Prediction: Italy at home on clay should be enough to win 3-2, but Slovenia could be the surprise package this year.
Watch out for: The talented Slovenian duo of Kavcic and Zemlja
South Africa vs. Netherlands
Prediction: The Saffers have more experience with Anderson and Wes Moodie, which should be enough, but Robin Haase and Thomas Schoorel, a 2-time Challenger winner this year, could upset the apple cart. Still, a 3-2 win for the South Africans.
Watch out for: A new generation of Dutch talent