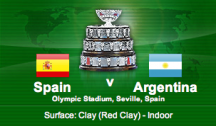 The stage is set. We're on clay (of course) and indoors in Seville for a Latin show down.
Let's break it down:
Team Spain: Rafael Nadal, David Ferrer, Fernando Verdasco, Feliciano Lopez
Team Argentina: Juan Martin Del Potro, David Nalbandian, Juan Monaco, Juan Ignacio Chela
PREDICTION:
D-day for David (Nalbandian) as he shoots for his 1st Davis Cup title after previously losing to Spain in his last one and at 30, it could be his last shot. To beat Spain in Seville, Argentina will need at least 2 to Tango, so doubles is crucial. Chela should hold down one side with either Nalbandian, Del Potro or Juan 'Pico' Monaco his partner, I'd pick Monaco however to keep the other 2 fresh for Sunday's singles rubbers. I like Monaco's game and while he's out of his league in the singles, he gets my vote for the doubles.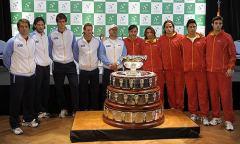 Argentina will expect the Spanish Inquisition
As for Spain, well we know Nadal and Ferrer are their singles giants, so that leaves Feliciano Lopez most likely playing doubles and his most regular partner Verdasco competing a left/right combination and dream team for any female fans.
Ferrer has been red hot and Nadal not so hot in a twist of fate. Del Potro has the firepower to take out Ferrer and Nadal with his nuclear forehand, while Nalbandian plays them both hard as well. Perhaps Nalbandian can fulfill his dream on the final Sunday and take the cup back to Argentina for the 1st time in their history. Dreaming? We'll see. Argentina to win 3-2
Did You Know? Argentina are one of only three nations, alongside India and Romania, to play in multiple Davis Cup Finals without lifting the trophy. They have lost in the Final three times – in 1981, 2006 and 2008.
Watch: Final Preview