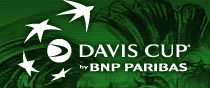 It's hotting up in the Davis Cup with some great ties for the quarter finals. It's approaching the business end of the tournament so …
Let's break it down:
Canada vs. Italy (Indoor Hard)
Canada will be feeling confident against the Italians on the indoor courts. Journeyman Dancevic comes alive in Davis Cup play and it's not as if they need to rely on him either, with the singles and doubles skills of Milos 'The Rocket' Raonic and Daniel Nestor.
For the Italians, Seppi is playing career tennis, while the fragile Fognini and the others look 2nd fiddle. Looks to be a chilly encounter for the Italians in Canada.
PREDICTION: Canada 4-1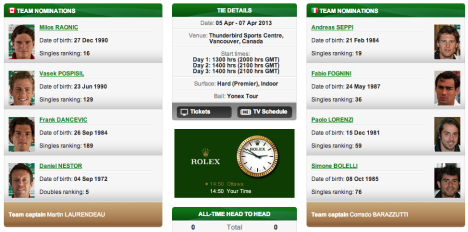 USA vs. Serbia (Indoor Hard)
Serbia and USA have met just once before, in Belgrade in 2010, and it was the Serbs who prevailed. Victor 'Tricky' Troiki could play a pivotal role in this agains, if Djokovic and their doubles team take care of their business.
However, Quisner and the Bryans are all in good form, especially Sam Querry back in the top 20. This looks to be tight with the Americans chest bumping by the end.
PREDICTION: USA 3-2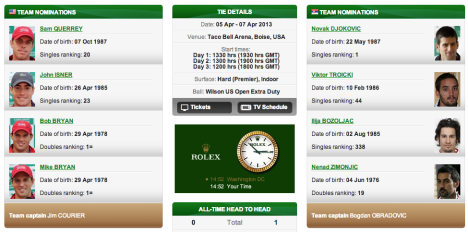 Argentina vs. France (Outdoor Clay)
France have owned Argentina 5 times in 5 meetings. This time, the Argentines are at home on clay with revenge on their mind. Monaco needs to find form, Zeballos beat Nadal on clay, Carlos 'The Jackal' Berlocq is playing the best tennis of his career and of course Nalbandian has x-factor.
Will this be enough? Gasquet is also playing white hot tennis and the Llodra/Benneteau double act is better than any combo the Argentines play. The pressure will likely be on Pico Monaco to awake from his slump and bring them home. I'm not sure though.
PREDICTION: France 3-2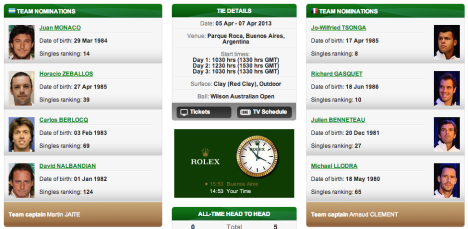 Kazakhstan vs. Czech Republic (Indoor Clay)
These two sides have played once before, in Czech Republic in 2011, with the Kazakhs taking the upset. Reigning champs the Czech Republic, look to move into the semifinals with the return of veteran Davis Cup hero Radek 'The Worm' Stepanek.
The Kazakhs have talent and spirit though and could push this close at home. I just don't see enough form from them to have a chance this time however.
PREDICTION: Czech 4-1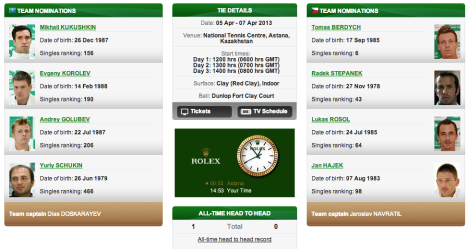 Watch: Davis Cup 2013 Promo