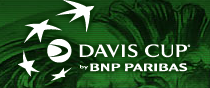 The O2 Arena in Prague will stage the 100th Davis Cup final. The Czechs are riding high in women's tennis with a recent Fed Cup win, so it's the men's turn this weekend. The Czechs are starved of a title, while the Spanish seek their 4th in 5 years and 6th overall.
Let's break it down:
Spain vs. Czech Republic (Indoor Hard)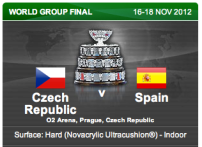 Considering Rafa may not play and they are playing at home indoors, I give the Czechs a good chance. Their doubles pairing or Stepanek and Berdych is top quality and the supporting cast of Rosol (who beat Nadal at Wimbledon remember) is as good as it's been for years.
The Spanish always have options, the question is will Ferrer be fresh enough. Almagro has a nice rivalry with Berdych, so this tie is bound to have a lot of drama.
Team Spain: David Ferrer, Nicolas Almagro, Marcel Granollers, Marc Lopez
Team Czech: Tomas Berdych, Radek Stepanek, Lukas Rosol, Ivo Minar
PREDICTION: Czech Republic 3 |  Spain 2
Watch: Preview