David O. Russell's latest Jennifer Lawrence-Bradley Cooper movie, Joy, just released a fantastic teaser.  Vulture joked that it clearly signals the beginning of awards season.  Haven't we been here before with this same director and mostly the same actors?
Two years ago, American Hustle scored 10 Academy Award nominations, tying Gravity for the lead.  It wasn't all that surprising, really.  American Hustle looks like an Academy Award movie.  It's a period piece about the FBI's ABSCAM sting operation in the late 1970s.  It has an all-star cast (Amy Adams, Jennifer Lawrence, Christian Bale, Bradley Cooper, Jeremy Renner, Robert De Niro), and its director, David O. Russell, could not have been any hotter, coming off  of The Fighter in 2010 and Silver Linings Playbook in 2012.  In fact, American Hustle's cast is like a weird marriage of the best parts of The Fighter (Adams, Bale) and Silver Linings Playbook (Lawrence, Cooper, De Niro) with Renner thrown in for good measure.  They'd all been nominated for those other movies so of course they'd be nominated for Hustle, minus De Niro since he's only really around for a glorified cameo.  When Adams and Lawrence picked up acting awards and the entire film won Best Picture-Comedy at the Golden Globes, it sure seemed like it had some Oscars in its future.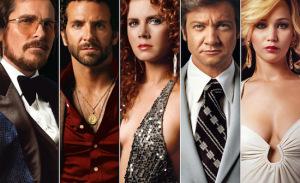 Instead, American Hustle went home from the Academy Awards empty-handed, completely shut out and pushed aside in favor of 12 Years a Slave, Gravity and Dallas Buyer's Club.  Looking back on it now, American Hustle seems exactly like the type of movie which would be over-nominated and win nothing because it never really manages to become anything more than the sum of its parts.  From the outside looking in, it appears to be a far better movie than it actually is.  You think you're getting Russell's version of a Scorsese movie, but instead you get, at best, Scorsese-lite.  It's the type of movie where the hairdos and clothes do a lot of the acting, and Lawrence's bawdy turn as Bale's estranged wife is either an awards-worthy force of nature or over-the-top mess which detracts from everything.
But those are the type of criticisms that a perceived Oscar movie invites upon itself.  Plus, I know that I came to it with a great deal of affection for Silver Linings Playbook and admiration for certain parts of Fighter.  To be fair, Silver Linings is probably more amateurishly made than American Hustle.  You can see the boom mic shadow in one shot.  Certain scene transitions are almost comically abrupt.  However, I ignored that because I understood the story and liked the characters.  I never completely understood what story or statement was truly being made by American Hustle, or at the very least I don't think it's overall point was made particularly well.
That all being said, it's not a bad movie.  As BirthMoviesDeath argued at the time, "American Hustle is a fine film. It's not a great, but it's a lightly enjoyable film with great performances and a fun heart. If it were released any other time of year we might be able to have a discussion about it as a movie, but it was released in December, as part of an awards push, and now we have to only talk about it in terms of Oscar quality. The problem is that it isn't Oscar quality, and so the discussion is already starting off on the wrong foot."
Now that Lawrence is back together with Russell in Joy, playing the lead role in a biopic about the woman behind the tubberware business dynasty, it is only natural to frame everything around awards potential.  After all, Lawrence's Oscar was for her lead turn in Silver Linings Playbook, and Joy brought Playbook co-stars Cooper and De Niro along for the ride.  But can we just forget all of that crap and appreciate that this movie looks really good, using evocative, intriguing imagery in this first teaser to entice rather than simply laying everything out for us.
Here's the plot description:
JOY is the wild story of a family across four generations centered on the girl who becomes the woman who founds a business dynasty and becomes a matriarch in her own right. Betrayal, treachery, the loss of innocence and the scars of love, pave the road in this intense emotional and human comedy about becoming a true boss of family and enterprise facing a world of unforgiving commerce. Allies become adversaries and adversaries become allies, both inside and outside the family, as Joy's inner life and fierce imagination carry her through the storm she faces. Like David O. Russell's previous films, Joy defies genre to tell a story of family, loyalty, and love.
Scheduled to come out on December 25th, Joy also stars Edgar Ramirez, Diane Ladd, Virginia Madsen, Isabella Rossellini and Elisabeth Röhm.
Source: Collider