For a man who based an entire chunk of his career on playing parts – whether it was Ziggy Stardust or the Thin White Duke, the mod or the starry-eyed folk singer – David Bowie is surprisingly comfortable and open just playing himself. Every song on The Next Day is saturated with the reminiscent longing and weariness of a long life and a long career – without too much of the flaccidity that would indicate slowing down. On The Next Day, Bowie leans hard into his some of his earlier albums, especially his Berlin trilogy and his work in the very early 80s, while at the same time trying to craft a decidedly modern album. The results are mixed, with a legitimate taste of Bowie's wonderful chord progressions and angular riffs getting lagged down by an unfortunate helping of studio shimmer and collaborative baggage.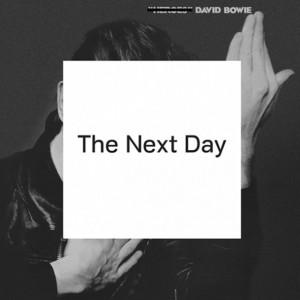 Where The Next Day does succeed is on the strength of the riff-heavy new wave rock first exhibited on "Heroes". Songs like "The Next Day" and single "The Stars (Are Out Tonight)" deliver new takes on that album's peculiar swagger, and though the absence of "Heroes" sidekicks Robert Fripp and Carlos Alomar (and of course, Bowie's former songwriting partner Brian Eno) is felt, Earl Slick's guitar work is competent (if nothing compared to Fripp, Alomar, Adrian Belew, or Mick Ronson), and longtime Bowie bassist Gail Ann Dorsey holds things together nicely. There are even a few appearances by King Crimson alumnus Tony Levin, but his particular brand of mathematical fingerwork has been watered down to suit Bowie's more colloquial needs.
The song "Valentine's Day" – one of The Next Day's relative highs – schemes closest to Bowie's work on Aladdin Sane, sounding particularly like a more sinister version of "Drive In Saturday." This song works as well as it does because it's the kind of "reach for the middle," straightforward guitar pop song that this David Bowie – performing on the track with Slick, producer Tony Visconti as bassist, and drummer Sterling Campbell – should reasonably be expected to write and perform. It is a bit of fluff, to be sure, but it's a fantastic bit of fluff at that, and Bowie's agonizingly clean delivery of lyrics about a potential mass murderer lend the song a bit of the smirk-heavy gravitas that Bowie's been toying with since his 1967 debut.
But on tracks like "If You Can See Me" Bowie's references seem to be conflated, with an intro vocal and guitar bend that sound upsettingly like a U2 b-side, saved only by verses that would fit snugly on a King Crimson album from the 80s. On songs like this and like "I'd Rather Be High," Bowie takes the kinds of riffs and beats that come pre-installed on Windows Media Player and does something almost Lynchian to their cheesy worthlessness – almost like he's trying to tortures the art out of them. Unfortunately, the songs' questionable compositional merits shine through; that this is the case for much of the album renders The Next Day somewhat forgettable.
"Dancing Out In Space" and "How Does The Grass Grow" represent a weird final outpost for The Next Day's catchy Pet Shop Boys-esque synth pop before slipping off the deep end. At 53 minutes and 14 tracks, The Next Day is way too long for an album with so many hairline misses. But The Next Day isn't bloated in the regular sense, and it doesn't feel unnecessary, either. Encouragingly, it is just a disappointing try from an artist who clearly hasn't had the fight knocked out of him yet. Bowie seems to have effortlessly slid back into place as a recording artist; with any luck, new material to follow.

3/5 bars
David Bowie – "Valentine's Day"
06 – Valentine's Day
David Bowie – "The Stars (Are Out Tonight)"
03 – The Stars (Are Out Tonight)