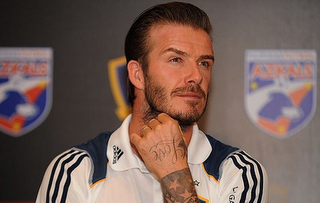 Speculation that David Beckham has made a huge u-turn to sign a new deal with LA Galaxy is mounting today, following reports that he has turned down a switch to big spending Paris St. Germain in France. For a number of weeks now, Beckham has been linked with a return to European football with the club that has just appointed former Chelsea boss, Carlo Ancelotti as its new manager. However, fresh reports from France state that the former England captain, 36, has decided not to make the switch to the French capital "for family reasons."
The family reasons quoted are most likely to surround the fact that his wife and children are very much settled in Los Angeles at the moment. PSG sporting director, Leonardo was understandably disappointed with Beckham's decision: "It's over. It's a shame," he told L'Equipe.
"But the welfare of his family in LA, the wish not not to change everything in his life, weighed heavily."
Beckham is now expected to sign a new deal with the MLS champions, who are believed to have offered him a one-year rolling deal, which will automatically be renewed each season if he makes a certain number of appearances for the club.
LA Galaxy have recently been linked with a whole host of European based footballers, having been expecting to replace Beckham. Current and former Premier League stars such as Frank Lampard, Obafemi Martins and Carlos Edwards have been mentioned. But with Beckham now likely to stay, questions will be asked as to whether the Californian club will be prepared to bring in any more big name players, or focus on bringing through talented youngsters.
Meanwhile, Beckham's LA Galaxy team mate, Robbie Keane is being linked with the possibility of a return to the Premier League on loan for two months. The Ireland international is being widely linked with Aston Villa.
What are your thoughts on Beckham remaining in the MLS? Even those who prefer to play poker games than watch football will be interested to see what Beckham does next!